Development of a Jet Drive for Small Boats
using a Commercial Water Pump - Part 1
by Steve Hansen
Background
Having a general like for boats that are small and slow, a desire to incorporate a jet drive would seem to be against my general leanings. After all, this mode of propulsion is usually associated with either high power aluminum jet boats that are designed to safely navigate the shallow and rock-strewn rivers of the western USA or those (in my view) obnoxious mosquitos of the lakes, the PWCs aka jet-skis.
However, there are many shallow backwaters for which a low power jet drive might be useful. There are no props to foul, no lower units to bend and draft is essentially as little as what the hull is designed for. Admittedly, push poles or a skulling oar would also serve the purpose well and regular paddles and oars aren't too bad either. However, they are not the best solution in areas where there can also be substantial tidal currents or where you would like to go just a tad faster.
I envision something that can push a displacement hull to between 5 and 10 mph in the shallow mud flats of our local coastal estuaries and rivers, is compatible with salt water, uses a small 4-stroke implement engine and is not too expensive. Furthermore the main part of the assembly (pump and engine) should be portable so that it could be used in more than one boat.
A boat having such a drive would also have a set of manual propulsors (oars, pole, paddles, etc.) and possibly an electric motor for fishing or for just being quiet and stealthy.
On the market today there are at least two commercial products that use such drives. One is the Mokai, a rotomolded duck/fishing/pleasure craft that is designed around an axial jet powered by a Honda 5.5 hp engine. Top speed is stated to be in the 15 mph range. Details can be found at the website of Mokai Manufacturing.
The other implementation that I am aware of is the line of kayaks manufactured by PowerKak. These are adaptations of standard rotomolded kayaks that have a small axial drive with a weedwhacker-type 4-stroke gas engine. There is a reasonably extensive patent literature on small jet drives and boats using such drives. Several compendia on these patents can be accessed at https://www.belljar.net/patents.htm.
Selecting a Pump/Motor Combination
Not being sure how successful a small jet drive would be I wanted to keep expenses to a minimum. After looking at the complexities of axial drives including the possibility of adapting one from a wrecked jet ski, I took the direction of using a stock centrifugal water pump. One that caught my eye was a polyester thermoplastic corrosion resistant pump by Pacer Pumps. The particular model I selected was their 200 gpm unit that is driven by a 5.5 hp Briggs & Stratton Intek engine. Inlet and outlet are for 2 inch pipe and the maximum pressure rating is 52 psig. The pump is designed for agricultural applications, is quite corrosion resistant, can be user serviced and is pretty inexpensive. I got mine at Northern Tool for $299.
Dry weight is less than 40 lbs. Pacer doesn't have any real specifications on their site and the manual is devoid of head vs. volume data. I did find some specs on the Web, although there are inconsistencies. In general it looks like the pump has a throughput of about 130 gal/min at a 60 ft. head and 110 gpm at 90 ft.
I received the pump on September 4, 2003. I figured I'd make a simple test jig in the backyard prior to testing in a boat. I mounted the pump on a plank, secured to two sawhorses. As a source of water I made an inlet of 2" pvc pipe that dipped into a 35 gal. plastic trash barrel. The exhaust was also of 2" pvc and included a 0-60 psig pressure gauge and a threaded fitting to which a variety of simple nozzles could be attached. The nozzles could either be directed downward, into the barrel or off to the side. A picture of the assembly is shown below.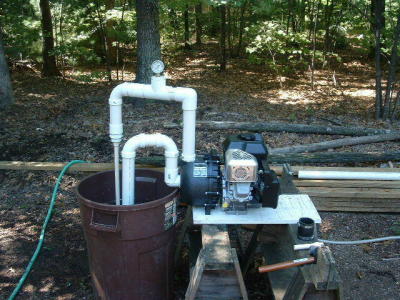 Note that the outlet fitting is 2" pipe thread. As will be noter later, this is important. Testing with the jet exhausing to the air was limited in duration to just a few seconds due to the capacity of the barrel. My first air-exhaust test was with a short length of ¾ inch pvc pipe serving as the nozzle. Again, the pressure reading at full power was about 40 psig. Here is a picture.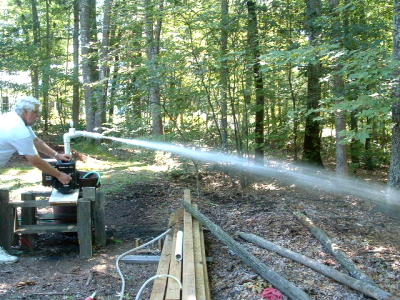 This was almost impressive.
A real quick calculation put the thrust in the 30 lb. range. Next I tried a nozzle with a 24mm inside diameter. This nozzle was really just a pvc threaded reducer so it was nothing in the way of looking like a real nozzle. After revving up the engine the pressure climbed to about 40 psig and an extremely imposing blast of water issued from the nozzle. After a brief moment the whole outlet manifold (remember the 2" pipe thread fitting) began to spin and an initial attempt to stop it was futile. The manifold then had a water sprinkler moment until it unscrewed itself from the pump and took off overhead, landing about 10 ft away. Soaked and feeling sort of stupid that I didn't aim the nozzle the other way (so the force would tighten the connection) I was at least happy that this thing does produce useful thrust. Another quick calculation had the thrust at around 50 to 60 lbs. The photo below shows the aftermath.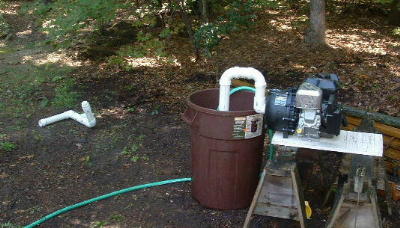 Getting Ready for the Water Trials
The Jet Yuloh
It was now September 7 and we made arrangements to pay a visit to my sister-in-law Candy's place on Three Mile Pond, just outside of Augusta, Maine. She has a 12 foot aluminum boat that we figured would be perfect for a water test of the jet drive. We set the date for the weekend of 20 September which gave me a couple of weeks to put together the hardware to install the pump in the boat.
Needing something that could be just dropped into the boat, I devised a simple over-the-transom pvc thing that I dubbed the jet yuloh. It was made from 2" pvc fittings with a somewhat flexible connection to the pump using 2" high pressure water hose, also obtained from Northern Tool. This stuff is made of reinforced blue vinyl and looks like a cross between those cheap polytarps and a firehose. Below is a photo of this assembly.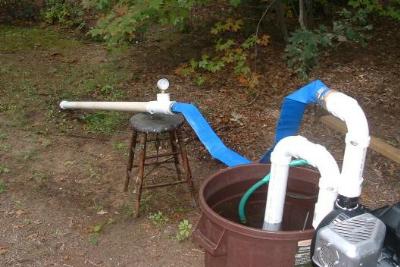 A quick test showed that the jet yuloh would bore wonderful holes in my wife's bark mulch pile. I was henceforth banished from backyard testing.
I also got some 2" suction hose from the same source along with a strainer.
Friday, 19 September and it was off to Maine!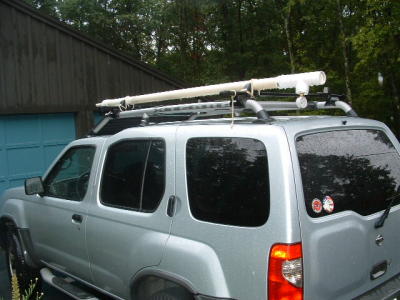 Visit Steve Hansen's Boat Page