Ryobi BT3100 Table Saw
With Attached Router Table Review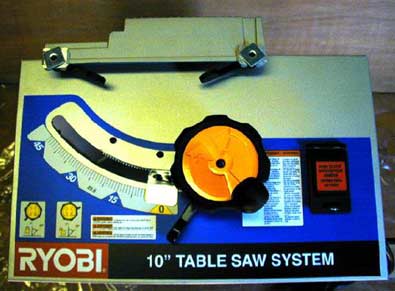 Greetings my Duckworks Ducklings, I will endeavor to explain my reaction to this fine woodworking instrument. I actually asked Chuck Lienweber if I could review the new BT3100 Ryobi 10' table saw system for you DuckWorkers. So with the help and great information from a few very nice folks from Ryobi and their marketing division, my wife and I went to Home Depot and picked up the Ryobi giant box with the smaller accessory box and router. A few holdups caused a delay in writing about this fine saw.
The first setback was a pre-planned trip to the coast with some of our dearest friends. Our separate anniversaries fall so close together it's uncanny and it was my first vacation of sorts in over five years. Under the guise of shopping for yard sales there I had an opportunities to price out large quantities of Port Orford Cedar. I was able to pick up a fantastic cedar burl. The Port Orford Cedar will be among the largest quantity of wood types in my next vessel I build for cruising.
Next, my wife's uncle passed away. His funeral was very close to Port Townsend, Washington. So the saw box remained unopened and my excitement was overshadowed by the grief of all the family members. I rented a very nice car for my wife to drive so this trip would not kill me following so close behind the anniversary trip. This realization of family members on my wife's side provide a great reason to go to the Port Townsend more often and even attend the wooden boat festival. My aunt in-law has invited us to stay with her family in their boat house with a very nice cruiser.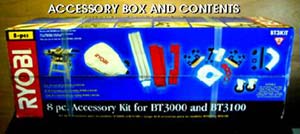 After arriving home, I enlisted my wife's help to take the table saw beast box to my workshop for assembly. I found I needed to assemble it in a very controlled fashion. The first thing that drew my attention was the completely flawless powder coating of all the outer metal parts. On occasion I've put together a few hot rods and had various pieces powder coated but this coating was so flawless and uniform that if I had taken them to my friends shop for powder coating the price would have been well over $300.00!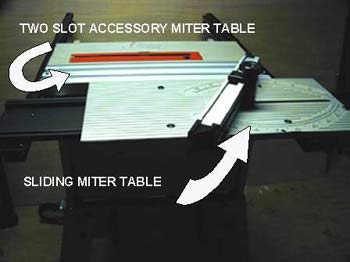 I realize production lines cut cost usually at the expense of quality. Nothing was shoddy and every part fit tight in a very well planned manner. I turned the power unit over, and to my surprise there were two drive belts not just one like some cheaply made saws. In addition, the blade enclosure didn't let sawdust fall everywhere just like the higher priced saws have done. DeWalt also has a similar blade enclosure, a single drive belt, but for $1,449. This DeWalt DW 746K Model has an extended table covered by that cost too. However, I have it on good authority that Ryobi may offer an extended table kit around the holidays. So basically the difference between the Ryobi and DeWalt is a thousand dollars and some cast iron. With the exception of cast alloy instead of cast iron, I felt as if I was working on a fourteen hundred dollar saw!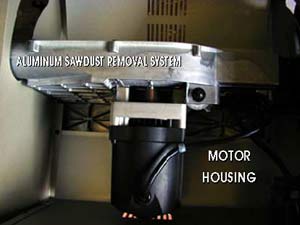 I set the saw up with meticulous attention to detail this was a saw right off the shelf from Home Depot. A saw like you or I could buy any day of the week. It also has a sliding miter table, again something found only on very expensive saws. With my purchase came a coupon for a free attachment kit (normally priced at $99). It's not only designed for the BT3100, but also Ryobi's earlier model BT3000. As they say, the devil is in the details so I pressed on with the assembly. When I raised the blade and put my dial indicator against the blade I checked for blade run out and thrust bearing play. ZERO. I checked and verified the dial indicator was in perfect working order on my 12" radial arm saw. I now know it needs a tune up due to end play. The assembly manual is quite thorough for the BT3100 and emphasizes setting up the saw to perfection. Going through those steps is not tedious when you consider you have a very advanced wood working system in proper working condition. It's so much better than a hand saw since using a typical hand saw would actually kill me.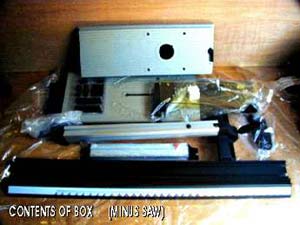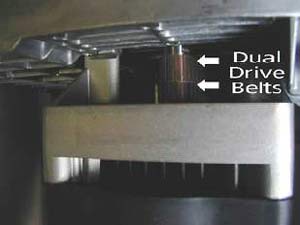 The accessory kit has a nice variety of options including wheels for tilting moving the saw. The best option I have found is the Router Table adapter. Of the two routers that Ryobi offers to fit this machine, I chose the RE180PL plunge router. It was awarded Editors' Best from a field of five in the prestigious magazine, Popular Woodworking. A router with soft start, variable speed, ½" and also ¼" collets, 2HP and amazingly costs under $100.00! The clearance to mount a router necessitates the use of a wooden insert 1½" thick by the appropriate width for the particular router. I opted to use oak and I finished it with Varathane because I'm tired of just plain oil finishes. I guess everyone has to have a quirk.
The rip fence must not have interference with the wood because it holds all the router guide fences and adjustment knobs for the router guards. It also has a tube guard that I hooked up to my 6 ½ hp shop vacuum. It really cuts down on the clean-up. The rip fence is very tight and feels very smooth as good as it is. I would not spring for any after market fence. Ryobi has placed enough technology in this rip fence for anyone to adapt any type of jigs or feather boards .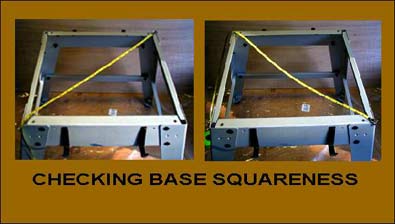 After deciding to make my spacer for the router table from oak, I used the sliding table feature that's primarily for miter cuts. I simply lined up the table for a 90 degree cut. The oak cut "like butter" with the standard 36 toothed carbide blade and zero clearance blade insert. I may eventually try the Matsushita blade but the stock blade cuts through 4X4 dimensional oak without even the slightest hesitation.
I want to build a George Buehler boat design called Pilgrim and with the BT3100 half the battle can be done. I have plans to build the P.C. Bolger Brick for fun and teach my wife how to use this great table saw. My wife majored in theatre arts in college. In the local community theater she has directed many plays and built sets so she has had to use power tools already. Getting the better half involved is any man's blessing.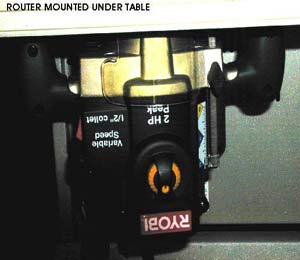 The saw cut large dimensional oak like butter and I will be exploring many new jigs for the sliding miter table as well as the rip fence. I ripped an 8' piece of red oak 4"X12" into 1"X4" strips just to test the saw and it never bogged down or strained without leaving any burn marks. What a joy!
The Router Table Attachments, Kit & Contents
As I said before I used Ryobi's plunge router for the router table. It's a 2 HP router with a soft start, variable speed, 1/64" micro adjustment fine depth settings and an automatic load compensator to maintain its many variable speed settings. The router is selling at Home Depot for under $100, comparable routers sell for hundreds more. The router has a flat side on its base providing greater accuracy on cuts when not used on the router table. The rip fence is used to mount the router hardware and the kit comes with five different throat plates. I tried out the router table and it works very well. My other routers only had ¼" shanks and it seems all of the best bits I've wanted have only been in ½" shanks. Ah, a new reason to buy more tools, isn't life sweet!
All in all the table saw with the accessories kit make an amazing deal with it's great dust collection bag, router table kit, accessory Miter table with two ¾" slots, two zero clearance saw throat plates, dado throat plate, special adjustable project clamp for the sliding miter table (almost as amazing as me writing this sentence!). Add to this very clear instructions in three languages. I became really confused when my box fan switched me to the Spanish section. Every once in a while something comes along that should not be as good as the price tag implies in this modern world. The Ryobi BT3100 is that contradiction, with features found only on other very expensive saws and envelope pushing technology. Fully loaded with the optional accessory pack and router it will cost at the very most just under $600.00. Sometimes they offer coupons as in my case that makes the sale even sweeter. They didn't forget those of you who own a nice router now though. Ryobi makes a universal plate to mount just about any brand on the saw's router table. With that don't forget the special lock-down adapter for the router table that usually only has a single locking device. If the table ever became loose from omitting the added lock it could ruin your day, year or life. Wood is the cheapest part in that circumstance.
I suggest any one who needs a very accurate table saw and doesn't want to pay through the nose try out the Ryobi. Home Depot has a very liberal return policy but once you buy this saw I'll bet you return for more attachments, not to return the saw. It and the router get a ten out of ten score from me. Ryobi is making great tools for boat builders and they make sure you can buy better wood because you have saved so much buying their great products.
Pictures And Testing The Dado And Shaper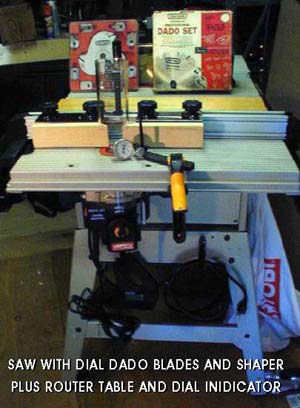 Several pictures were taken, but my shop is all metal and this heat wave in our high desert home has turned into a sauna I think I've lost 10 pounds just from sweating. I have a water mister system outside who's manufacturer claims keeps the temperature down by 20 degrees, but a hot metal building is hotter than hot and that only brings the inside temperature to well above the century mark. I took pictures of the shaper and dado in action late in the afternoon only to find out my digital camera doesn't work when the temperature gets that high. It just refused to function, which should have been a hint. I have had the dado and shaper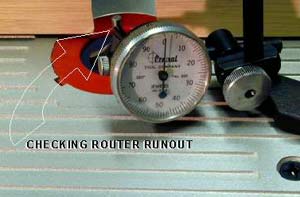 since the sixties and the price tags prove there is inflation, but I since I've discovered routers I've never had the need to use them. Being rusty on the setups I did use both of them for the test and they worked fine. I kept having to wipe my pouring sweat off the wood and the saw. The camera has a remote control to take pictures but it may have also have been malfunctioning because of my grimacing face. In testing I also used the zero clearance plate but I found some of the directions almost impossible to do without breaking the plastic plate. I have resigned myself to figuring out a way to make a slot for making beveled cuts without using their directions. I guess I have been a rebel for some time but there must be a better way to cut the slots. In corresponding with other wood workers they claim that a five horsepower Grizzly or a rebuilt Delta Unisaw at $1,500.00 are much better saws and to this I might possibly concede, but I couldn't move either of them around in my shop. My wife would also divorce me for that indulgence when the Ryobi can do 95% of what the others do because it is not a toy.
Prior to Ryobi's introduction of a bench top planer the experts thought that only huge cast iron planers could do a proper job. Now there are no less than five copycat bench planer manufacturers. Ryobi has proven that engineering with lighter components can allow the common man to have machines with accuracy that was once relegated to large cabinet shops or more wealthy woodworkers. That is why I have given both the BT3100 table saw and the RE180PL plunge router my A+ rating. It doesn't get any better than this.
They are calling for hotter temperatures tomorrow so I may bring my other projects inside the air conditioned house while my wife is a work...the house should smell very good with Cedar shavings everywhere.
A glimpse from John's Tool Crib.