RYOBI 18.v Cordless "SIX PACK" SPC18
A review by John Cupp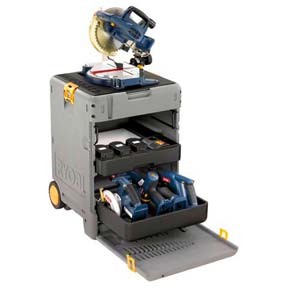 Well all my duck friendly boat builders, craftsmen, weekend woodworkers and just plain old curious carpenter types, your chance at getting a great deal on 18 volt tools is coming to a close. I promised that I would find tools that worked great and were not going to break the bank. The Ryobi Six Pack fits the bill to a tee, I did my part. Remember those huge displays of RYOBI SIX PACKS at the front of most Home Depot Stores that we all have been curious about? I broke down and got one. I know, even though I already have a 9.6 Makita drill that came in the metal box with three extra batteries (that's many, many years old). A friend convinced me to buy the Makita just so he could listen to his portable radio above the noise of my small Honda generator (they also have come a long way). To top it all off when the flooring in my shop was laid down using square drive screws, my neighbor (who helped with most the work) only used one battery on his 18.Volt RYOBI drill battery pack while I went through three on the Makita. I would not have minded but he actually did 95% of all the work And I was completely "taxed out" and laid in bed for three days wishing someone would shoot me. My neighbor Jose is a professional carpenter and runs his weed eater around my house and is always asking if he can help because of my back. After that job he told me that I should buy the 18.Volt drill.
Well folks, Ryobi just took $100 off the Six Pack's already fair price of $399. Some home Depot stores are also giving away free coupons for the vacuum and other products while still remaining at $299. It includes an 81/4" cordless compound miter saw, a 5-1/2" circular saw, one of those new speed saws that cut smooth holes if you have a steady hand, a very cool cordless drill, a useful reciprocating saw and a very bright light. With the exception of the light all the tools eat wood with the best out there. The light is actually very powerful and where I live it will have every game warden in the county zeroing in on law abiding me (ouch! those lightning bolts were too close for comfort). So me being Mr. Curious I went to HD and walked around the store and received sticker shock at the individual tool prices. $299 Is a great price for all of these wonderful tools and best of all is not intimidating to my wife (hey! I'm not stupid, guys!).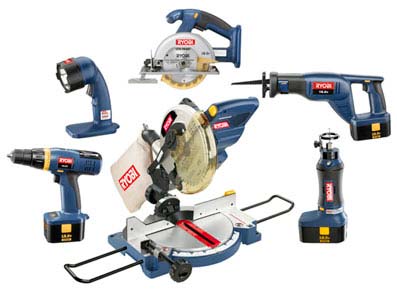 I unboxed the unit with my wife patiently watching and charged each battery as per instructions. Another outstanding feature, the high capacity, long running batteries are fully charged in only one hour! While waiting on the batteries I tested the circular saw for blade run out and end play but what struck me was they are not built like toys. They are built for cutting wood. When I build that "Bigger Boat" the "SIX PACK" 18 volt set has a place already picked for storage in my onboard workshop. The miter saw is in fine working order and works great with the product rollers I just bought at Home Depot. It carries an 8¼" saw blade that cuts precisely and the circular saw works very well with it's diminutive 5½" blade. As it just happens I installed a new front door (not by myself). This 18 volt power house miter saw is more than willing and able to accomplish the work. Except my wife now wants a bay window and all the alloy windows removed. Do I see a pattern here? Hmmm.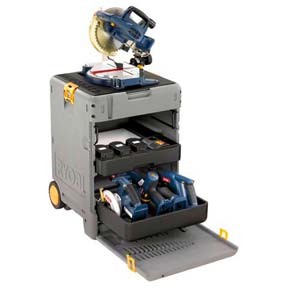 But wait where is that Big Six Pack Locker? As luck would have it we made a few good purchases of Melamine stock. It was cull stock that supposedly was cut to fit at the HD store. They sell cull stock for much less because it was cut incorrectly. My wife is a flower gardener who cannot get accustomed to the small growing season at the 4500 foot elevation where we live. PROBLEM SOLVED! She planned and built a wonderful indoor lighted plant starter stand using the Six Pack. It happened to be where my reloading bench was, but I figured when my larger shop is built I'll have my reloading space back. But until then I'll praise her talent at using the new convenient power tools. I fear, my webfooted friends, that the property rights for the Six Pack have seemingly transferred to her without missing a beat. She even likes the new fast cutting saw for making small holes and told me it worked great with the Melamine. I just might have to call my attorney if things get any worse. The more I think about it I might just buy one for her because at the current price and volume being sold it would be cheaper than my attorney. Plus any gal that can design and build her own project without my help is a keeper, maybe she doesn't like the way I do things? One thing is sure, work is much faster when you don't have to hunt down an electric outlet.
HOLD THE PRESSES!!! Please buy your Six Pack as soon as you can, the opportunity will never come again. This little bit of behind the scenes information will make you realize why the Six Pack is falling from the Ryobi Product line. If you don't take and run with this once in a lifetime deal you will be kicking yourself in the butt for a very long time!
RIDGID GOES PORTABLE WITH AN EXPANDED PRODUCT LINE
by---David Thiel, Senior Editor, and Michael Rabkin, Associate Editor
Popular Woodworking
In a presentation with the feel of someone being thrown to the lions, representatives from Ridgid Inc. recently met with a group of editors in Chicago to unveil an expanded product line aimed at some of the best-known brands in power tools—namely Bosch, Porter-Cable, DeWalt, Makita and Milwaukee.


The tools showed to us include corded and cordless drills, hammer drills, reciprocating saws, circular saws, random-orbit sanders, jigsaws and angle grinders. The new line of tools is a result of two years of research and development by Emerson Professional Tools (parent company of Ridgid) and One World Technologies (a subsidiary of TechTronic Industries Co. Ltd., which is the parent company of Ryobi Tools).


But don't think these new tools are just dressed-up Ryobi tools. Ryobi makes a good line of tools for the home and do-it-yourself woodworker, but the products we saw are professional quality tools (though I know a lot of do-it-yourselfers that will be spending money on them as well). Ridgid's tools will be available at The Home Depot, as well as a variety of other retail locations, beginning Oct. 1. Below are just a couple of the ones we saw. We'll be testing them as they become available and let you know how they perform, so be sure to keep reading the magazine.

A HOT SIX PACK TO GO,
GOING AND SOON TO BE GONE!!!
All pictures, features and specifications provided by Ryobi