MULTI PLANER TEST
or
THREE MARVELOUS MACHINES
Greetings from John's Tool Crib!
What a busy month for me as I am trying to do at least seven articles to let your loved ones know what to put under your tree this holiday season. At one point I even lost this whole article because of a computer glitch. Luckily, my fantastic wife put the file on another site and saved it there. Without that move, I would have had to write it all over again with just my notes. I tried to get more machines to test, but some manufacturers wouldn't help out, and I didn't have contact numbers for others.
DeWalt had just come out with a new planer, and they didn't have enough to go around, but they sent a 12" double compound sliding miter saw for my next multi-tool report. They sent the list of features and specifications for both of their new planers and pictures. If you are considering buying a DeWalt machine, they are among the top rated of all tool builders. DeWalt, RIDGID, DELTA and RYOBI all supply high end tools for professional use.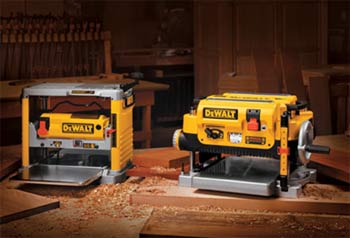 In my opening statement from my bio, I said I would only test the least expensive tools that most of us would buy. Since then, I have been informed that plenty of builders out in the reading world would like to read about all the choices in any category. So this is why I am doing some multi-tool reviews. I want to show all of the options available. I can now see also that the high end tools are worth every penny for what you get.
The three that did send machines were RYOBI, DELTA and RIDGID. I have tested each one extensively and have ground to chips many board feet of quality lumber to bring you the results. First, I would like to give a lesson on what is referred to as snipe. Snipe is a condition where the wood going through your planer comes out at the very end with a few inches or just a groove of wood that has been cut deeper than the rest of the board. It can happen at the beginning of the cut or more often at the end of planing.
Remember that snipe has been virtually eliminated from modern planers by the engineers who design them. All of the owners' manuals give detailed instructions on how to adjust your machine for snipe-free operation. I took my time and set up each machine. I ran many types of wood through each one with impressive results. On a newer, well designed planer like the ones I tested, you should encounter very little snipe. If snipe occurs on every board then you must adjust your machine to rid yourself of the snipe. If you only get snipe once in a while, reverse the ends of the board you insert into the planer. If you cut against the grain snipe will happen. But when you reverse the board you can rid yourself of the snipe.
Another thing to remember is that the planer itself cannot balance long boards. The further a board must go without support the higher the likelihood of snipe. With the planer, you should always purchase roller supports to support the lumber coming from the planer. I made a timely purchase of roller stands at a store called Big Lots that sells closeouts from large chain stores and sells them at ridiculously low prices. They were twelve dollars each. I have seen them on sale at Home Depot for nineteen dollars. You probably could get by with two but I recommend three or four. Actually, I like five or six with boards that measure twelve feet or more. While on the subject of roller stands I always drill a 1/8th inch hole in the movable leg of the stand and then screw the stand to the shop floor. You will find that the board coming out of the planer can flex down and tip the stand over if it isn't immobilized.
Now onto the machines, but first this warning: Just like all power tools these machines must be handled with respect. You can lift the cutter head of these machines in the air the full amount of travel and turn them on without having wood present. All of them have some type of safety feature so they cannot be turned on without the operator present. Use these features because the cost of a child or adult's hand is beyond calculation. So use the safety devices always and no horse playing around them. And please do not allow any stupid people to operate machines as dangerous as these. Safety must be your #1 concern each and every time you use these machines.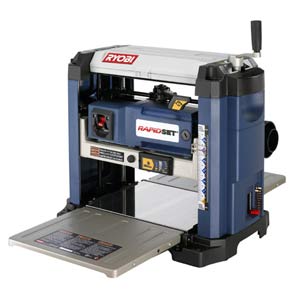 The first machine is the RYOBI AP1300 planer. I started with the RYOBI because they first came out with the bench-top planers with their AP10 10" planer about 10 years ago. While it is the least expensive of all three, it has many excellent features for a planer at this price. The RYOBI AP1300 has a dust manifold that when hooked to my collection system removed most of the debris through the manifold. The planers that could be were hooked up to my 6.5 hp dust collection system. It is essential that you have some type of collection even if it's just a shop vacuum. All of these machines can make a mountain of chips in a very short amount of time. It has adjustable input and output tables and has a top mounted tool area with a convenient lid for storing pencils, rulers and the planer knife wrench. The double-edged cutters are easy to change once you master the technique. When one edge becomes worn you can reverse them and use the other edges for cutting. You can also slide them from side to side if you chip them, so it doesn't leave a mark on your work. The RYOBI planing results are no less than great.
Even though it is has the lowest price, the RYOBI AP1300 has top features like a replane set gauge that allows for 8 depth stops to accurately plane your workpiece to a desired thickness up to 1 ¾". It has a cutting lock to assure snipe-free results in any type of wood. The RYOBI AP1300 will take wood up to 13" wide and 6" tall maximum at 25 feet per minute. The planing depth gauge even measures each cutting depth before every pass. The maximum cutting depth is 1/8th inch for 6" widths or less. The motor even has externally available brushes so you can service them rather than sending it out, as did the other two. Be aware that none of these machines should be used without hearing and eyesight protection. With that said, I did not test the machines for sound output, but be sure to tell your wife what you're doing, because she will hear any of them running. RYOBI has a two-year warranty and a thirty-day return policy that is hard to beat. I can truly say that the RYOBI AP1300 was a lot more machine than the price tag lets on. For a first time buyer on a budget or even a seasoned boat builder without a wood planer this tool will do the job.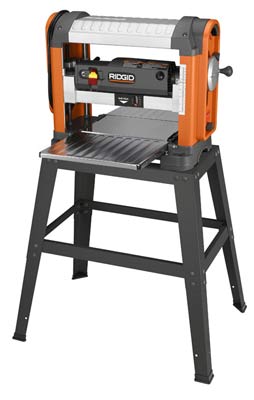 Now we move on to one of the best planers I have ever used. The RIDGID TP1300LS comes with its own stand and a mile long list of features. One of the RIDGID TP1300LS's best features is that almost everything you need to start planing lumber is inside the box. It has the stand, the waste product manifold, an extra set of knives and the changing tool. With every planed board I could see the years of quality tools that preceded this fine tool. For a single speed planer it gave simply remarkable results. While being in the middle range price-wise, it gave top end performance
This RIDGID TP1300LS also has a cutting head speed of 9,500 RPM's and a feed rate of 26 feet per minute. The capacity of this and most small planers is 13" wide and 6" tall, and the maximum cutting depth is 1/8th inch and gets its super fine finish with 66 cuts per inch. Any boat builder could use this tool to plane any type of wood with outstanding results. It also has oversized input and output tables for extra support. In fact, they are also fully adjustable. It also has "IND-I-CUT"! DEPTH MEASUREMENT that instantly measures cutting depth before each pass. Another feature is "REPEAT-A-CUT"! DEPTH STOPS with eight adjustable depth stops to precisely plane work pieces to desired thickness up to 1 ¾" thick. Still another feature is SOF-TOUCH"! CONTROLS with large ergonomic knobs that are comfortable and user-friendly.
I found the RIDGID TP1300LS has a very familiar feel -A feel that my oldest tools give me that guarantees good results. I even used this planer and the DELTA model to build my custom built Phillip C. Bolger designed Brick with copper bottom and red oak exterior lumber with mahogany plywood. Probably the most expensive Brick built to date, and I haven't built the mast or sail yet.
For the RIDGID's price, I recommend any boat builder from neophyte to professional take advantage of RIDGID's 3-year warranty and a 90-day return policy. You won't have any regrets. Like the RYOBI before, the RIDGID was adjusted to be free of snipe in just a few minutes of tinkering, at least in my results. The RIDGID TP1300LS provides a superior surface in all woods. In some wood I had to take out my Radio Shack hand held 100 X microscope to see that this planer had been bested. With performance that close in a few species of wood, this planer is a close second place. Even the RYOBI planer in my opinion had excellent results.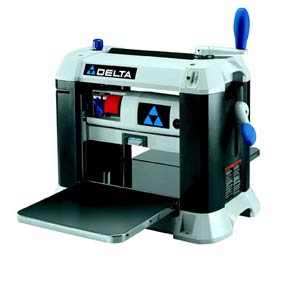 Now I come to the last planer in this series. It also has the most features of all the planers tested. DELTA has a standard 2-year warranty that covers any DELTA machine, machine part or machine accessory. It is a heavy machine and with my bad back, I had to have help lifting this beautiful magic box. The DELTA Industrial Model 22-580 13" two speed finishing planer is just as described.
It is unfair that I placed this wonderful machine in with two others designed mainly for small shop use. I can only say that an amateur boat builder can have custom wood finishes with all of them but they don't have to work as hard with the DELTA. This is the machine dreams are made of. The maximum width of stock to be planed is still 13" but the height is 6½" instead of just 6" for a small but useful increase in size from the other two.
I had a lot of interesting results using this tool. In the regular mode, the finish is almost as good as the RIDGID, but the finish from the slower finish speed is spectacular. Even when I planed red oak the most it needed was a very fine sanding. That's a very good result. Of all the planers, the DELTA needed the least adjustment to remove all snipe. As I said, the newest engineered planers can and are snipe-free with common sense and fine-tuning.
Some of you reading this will say to yourself that you will never need a planer, and you might not. I say that with the prices of wood going up dramatically all the time, there will come a point that people will have to resort to gleaning wood from hardwood pallets, old waterbed frames, and many other sources rather than spending fortunes at a lumber yard. I do these things now. When you gather wood of all sizes, you will need a planer. With any of these planers you can turn rough wood into beautiful works of natural art. The DELTA sits at the top of my planer trio, because it is a two-speed finishing tool and tops the list with the most features that work.
The DELTA weighs 97 pounds, is 23 ¼" tall, 17 ½" wide and is 27 ¾" deep. A lot of machinery is packed into that small space. The feed rate is 20 feet per minute on the slow finish setting and 30 feet per minute on the standard setting. The cuts per inch are 90 and 60 per respectively. The cutter rotates at 10,000 rpm. It has an oversized on/off switch for safety and a patented cutterhead lock that stabilizes the cutterhead to virtually eliminate snipe. Although done in different ways, all of the planers had this same feature. The DELTA planer features a full-range depth stop for repeatable thicknesses at any dimension across the entire height range instead of 1¾" like the other two planers. The blade zero indicator sets the cutterhead to the exact thickness of the material. One of my favorite features of any planer is on the DELTA. It is the stock transfer roller built into the top of the planer. This is used to make multiple passes easy since you just roll the board back over the top of the machine. In my humble opinion, all planers should have this very nice feature. Every bearing, bushing, and control link are built larger on the DELTA planer. Of all the machines, it had the easiest height adjustment control with an oversized soft grip handle that made it comfortable. It is a machine built for heavy use like a commercial boat shop may need. I know that I could never wear this planer out in the rest of my lifetime. I also know that a production shop could not wear this planer out in ten years of use. So if you want an immensely strong, accurate and dependable tool, the DELTA Model 22-580 industrial 13" two-speed finishing planer could be the one for you.
While planing with these machines I used maple, ash, Port Orford cedar, walnut, birch, yellow pine and fir. I made too much saw dust and shavings out of perfectly good wood. Don't tell my wife I made dust out of the wood for her Galileo thermometer holder. I just couldn't help myself once the chips started to fly. Make sure you have a lot of lumber when you purchase any of these planers; once you start you just can't stop.
As to what I would pick for my new shop I have to say any of them. I have to thank RYOBI, DETA, RIDGID and DeWALT for the help and machines, pictures and specifications they provided for this article. All of these planers are beautiful and built tuff like the tools our grandfathers used. I am unable to pick one that would be called the winner of this review. Each one has the ability to do what they are intended to do in a very nice way. As with any tool, as the prices rise so do the features, accessories, size and weight.
The RYOBI would be good for the first time amateur and the professional also. For a little more money, you get a complete package with the RIDGID with almost nothing else to buy. It is also a better planer and would compliment any shop. The DELTA planer is as solid as granite rock. It is built tough for the long haul, but is still aesthetically pleasing to the eye. It also had the overall best performance. I would call this test the best of the best. None of these planers showed any faults; they are all sound buys in their respective price ranges. Let the chips fly in your shop!
So long from my tool crib,
John