DELTA PACKAGES UNIQUE CORDLESS WOODWORKING CAPABILITIES
Delta 6-Pack Establishes New Standard in Cordless Kits
11/4/2003
JACKSON, Tenn. (Nov. 4, 2003) – The new Delta Machinery Woodworker's 6-Pack is the ultimate tool kit for tackling woodworking and home improvement projects. The industry's only cordless woodworker's kit with six tools, the Delta ShopMaster™ CL180WWK empowers users with maximum power, precision and durability to successfully meet a variety of woodworking and home improvement demands. Powered by 18.0 volt diagnostic batteries, the CL180WWK includes a cordless drill/driver, circular saw, orbital palm sander, jig saw, brad nailer and flashlight.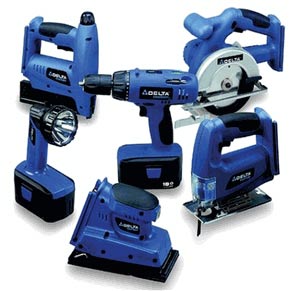 "Delta has long been recognized as the leading manufacturer of premium woodworking tools and we recently extended that expertise into the cordless category with our line of Delta ShopMaster™ cordless drills/drivers," said Chuck Hardin, Delta director of marketing. "We've incorporated our cordless capabilities into established Delta's product lines to create the industry's most complete woodworking package. The Delta 6-Pack has created a new standard in cordless kits."
The 18 volt drill/driver features a ½" keyless chuck, two speed ranges, 24 position clutch, bubble-level and dual-bit storage. The circular saw utilizes a 4,500 rpm motor and 5 ½", 18T carbide blade for sawing capacities of 1 9/16" and 1 1/8" at 90º and 45º respectively. The palm sander uses standard 1/3" sheet paper, orbital sanding action and ergonomic soft palm grip. The jig saw has a 5/8" stroke and 0º to 45º left and right tilting base with edge guide for diverse sawing needs. The brad nailer uses adjustable driving force to drive 18 gauge 5/8" to 1 ¼" nails at two nails per second. The Delta 6-Pack is complete with a large, 3" reflector flashlight which has a rotating, 0º to 90º spotlight.
The Delta ShopMaster™ CL180WWK comes with a one-hour fast charger and is currently available for approximately $269.
DELTA MACHINERY
Headquartered in Jackson, Tenn., Delta Machinery, a subsidiary of Pentair Inc. (NYSE: PNR), is the leading manufacturer of the world's most complete line of woodworking machinery, stationary equipment, and related accessories for use in home workshops, building and construction trades, industry and schools. With its manufacturing operation centralized in Tupelo, Miss., Delta Machinery owns and operates a subsidiary, Biesemeyer, located in Mesa, Ariz.