BASSELKY
Bass Strait Express Long Keel Yacht
A Fishing Motorsailer for the Beauty at the South End of the World..
Normally I dont feel interested in boats that are enormously expensive to build, but the magnicficant rugged coast of Tasmania, along with the abundant supply of both Boatbuilding timber and enthusiasm, inspired me to sketch Basselky, then cast about for ideas that might enable one to be afforded. At 10 metres she's a minimun for the beautiful but somtimes malevolent Tassie seas, which include the dread Bass straight. There are two factors that might be harnessed to attain this boat. One is the two boatbuilding schools in Tasmania who charge a small amount over the cost of Materials, but the boat is still dear as they only use the very best for a such build. The other was the steadily rise in Tassie Tourism, but this avenue has been closed by Public Liability. You have a choice of paying a massive annual fine for guests who can't keep their feet, or be sued out of your boat by the first twit who falls over.
Basselky is designed to withstand severe conditions, but is fast enough under both sail & diesel to hopefully avoid them. At the heart of this little ship lies not only an engine which will comfortably deliver hull speed in a seaway, but also a goodly low-aspect sail area offset by a 50% ballast ratio. The deck area is set up to cater for day-tripping fishing parties. It features a safe low-decked bow area accessed by wide sidedecks, with solid railings about & adequate seating. There is extra space to fish from the rear quarter; see yellow decking in cartoon. The foredeck space will accommodate a small RIB when not covered with Lawyers..
Basselky is a Wolf in Sheep's clothing, with design elements more usual in fast than traditional cruisers. Its low profile cuts accomodation volume, but not comfort. In lightship mode Basselky, clad in an inch of cedar-epoxy strip planking, displaces just 5.25 tons, eqivalent to many fast cruisers of similar LOA. The difference is that the more race-bred yachts are longer in LWL & have the sections to plane at lower power input.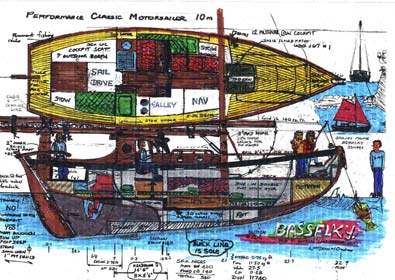 click to enlarge
The Bass St Express has the rare combination of a flat section hull with a long keel giving good tracking with some lift capability. Its 75hp Volvo-Penta sail drive will push the semi-displacement hull to 12kts in good conditiions and enables the boat to steam home in good order against head seas & winds. She will cruise in good conditions on a gallon per hour in displacement mode @ 8 kts. The 30-gallon tank under the sole won't break the bank to fill, but provides a 400km range.
Interior shows 6.8 ft of HR in the working area, the combined galley & wheelhouse. The tiller is a removeable fine weather/emergency auxiliary. There are two very comfy sea berths and a Harbour double with an extra 400mm headroom either side, split by the tabernacle box between the 4 back to back seats. One or more of these seats doubles as a hatch. The arrangement is perfect for the annual Tasmanian or Scottish 3 Peaks race, with (green colour) sea berths offering total privacy despite being in the most comfortable part of the boat motion-wise. Thus Runners can sleep underway, while Sailors can hot bunk or use the double.
In worsening conditions where a tactical retreat under power seems prudent, windage may be vastly reduced by winching the tabernacle-mounted mast and low aspect Gaff rig back to the secure position shown. At anchor this setup can be used as a tarp ridgepole. it also makes the boat suitable for Canal and river systems.
All in all a wonderful and versatile boat, that sadly loses the most persuasive of the cost-comfort-performance Design Conundrum. Influences in thsis design are the wonderful motorsailers built in Tasmania by Ray Kemp, the Franklin Wooden Boatbuilding School in the Huon Valley, and Zoe, the fast flat-hulled Gaff Cutter design of Daniel Bombigher, RIP.
Jeff Gilbert 2003.