Traveler's Tales
Many times I have bemoaned the lack of freedom which has come from regulation. Kids are driven to and from organised activities, the carriage of safety equipment is mandated, and irresponsible behavior can result in litigation.
Regulation has come at a price, and one of the costs is the lack of freedom which nautical children experience. It is a well-worn line, but things aren't what they used to be… When I was a kid, school holidays meant being away from the house from dawn until dusk without parental supervision. We were usually on the water, in the water, beside the water, or in the bush. If anything bad had happened, our parents would not have known before nightfall.
Until recently, I had accepted that my own sons would be victims of this change in society's attitude to risk, and that I would be seen as a member of one of the last few generations of fortunate, unregulated Australian kids.
However, I had fallen for the trap of assuming that being subject to regulation is synonymous with having fewer adventures. In fact, it just means having safer adventures for those who want to participate.
During the recent school holidays, one of my sons and one of my nephews had a "regulated" adventure which made me jealous. They both used wooden boats which were built at home, and they had each taken a large part in the building projects. The six horsepower outboards had been maintained and/or restored by the boys, and their own money had gone into the projects.
One morning on the way to work, I dropped the two boats and two boys at the Manly boat harbour. Carrying the required safety gear and ground tackle, they traveled north along the coast to the mouth of the Brisbane River, passing inside Fisherman Island.
From there they explored up-river past tugs and cargo ships, stopping to touch the pylons of the massive Gateway Bridge. At Breakfast Creek they tied up at the wharf, bought chips from a vendor, and then set off again. Passing through the centre of the city, the two travelers continued past multi-million dollar houses until arriving at Queensland University. The picture of two young boys passing through all that evidence of wealth played over and over in my mind – their boats had only cost a couple of hundred dollars.
The journey home was completed without incident, but not without adventure. They telephoned me from the ramp at four o'clock, having been gone for seven and a half hours. Instructions had been complied with and regulations (I hope) followed.
These boys had earned the privilege of conducting the trip, and it had not been done without experience. I guess that they could have come to harm, but the decision to let them go was based on careful thought and observation. I can well remember the first time they were allowed out in my old sailing dinghy, operating solo under supervision. Even though the boat didn't have the sailing rig set and the outboard was a mere 3.5hp, I was concerned enough to stand waist deep in the waters of Moreton Bay for over an hour while keeping them under observation. They were much smaller then.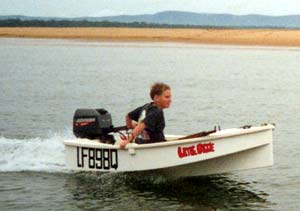 Time passes fast, I know. The rate at which they have learned has increased with the passage of the months and years, and they are now very competent seamen within the boundaries allowed. I am proud, and I enjoy their company.
So if you want to free your kids from a screen-based existence, consider buying some plywood and glue, and in the process change them from spectators into participants in life.
A lot has been written about John Welsford's design, Houdini, but the majority of the writing has appeared in overseas publications.
Houdini is a sailing dinghy optimised for beachcruising. At 4.1m LOA with a breadth of 1.8m (13ft 5ins x 5ft 11ins) she sounds small but her high freeboard and flaring topsides make her a high-volume boat.
The layout of Houdini warrants close inspection – a forward-mounted centreboard clears the raised and self-draining floor for comfortable lounging. An oversized rudder and skeg ensure that the centre of lateral resistance remains in the correct position.
On-board camping is simple – lack of thwarts and enough floor space for two full-sized airbeds combine with a boom-tent to create a spacious hideaway. Hatches in buoyancy tanks provide access to stores.
Short spars and a freestanding mast carry a single 115sq.ft. standing lugsail, the sprit-boom of which is self-vanging. My own boat is rigged with a similar sail, and she tacks through 85 degrees. The lack of sail twist associated with the vanging action of the sprit-boom really helps – I can't quite catch Mike Roberts' Green Island 15 close hauled, but it is close. As many people have discovered, the Green Island series are fast and particularly close-winded with a gunter/sloop rig, so I'm not too disappointed.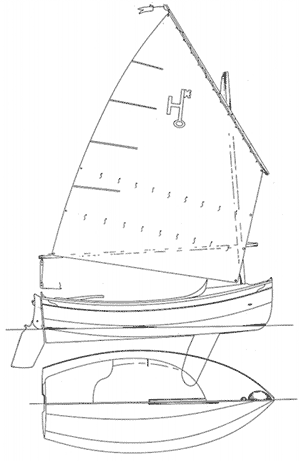 Construction of Houdini is straightforward stringer/frame plywood. She is built right-side-up on a simple strongback, utilizing frames and bulkheads for moulds.
Plans for Houdini are available from Duckworks Boatbuilder's Supply for $86US.