AF4Breve
10/21/03
hello there "chuck"
hows things going with ya there in texas? keeping warm i hope not so hot here as of late. cold winds a blowing and with the time change coming it will seem like winter is near by? i have all the bulkheads cut out for the a4breve now just waiting for some epoxy to get here from clark/craft. after looking over the plans i have made a lil change. i like a lil more room so i straighten out the rear of the boat from the main bulkhead 14 to the transom. this will give me a lil more room in the seating area i feel? also on the sides i'am useing 3/8ths ply. not 1/4 thus beefing up the sides. the first boat i built i used 1/4 ply and i was not to happy with it. the 1/4 ply they have here is just not that good more for underlayment. if all goes well i want natural wood look on the outsides and decks of the boat.
well chuck just wanted to say hello you take care.
your friend in illinois "bill"
11/14/03
hey chuck
hows you doing today good i hope? thought i might send ya a few pic. of my work on the a4 not much to look at yet but it's comeing along. bill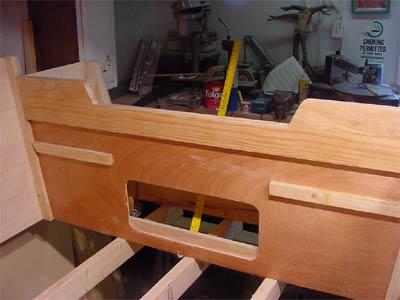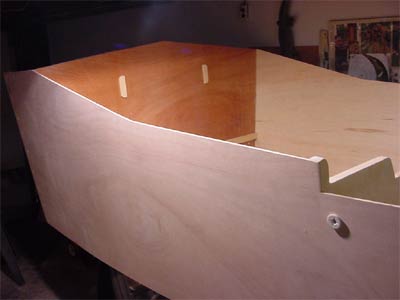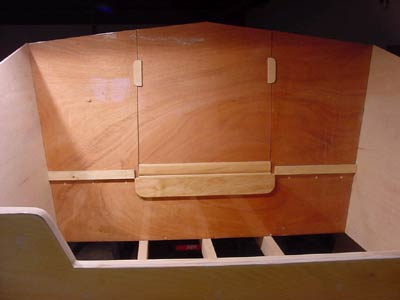 12/9/03
HELLO THERE "CHUCK"
HELLO MY FRIEND HOW'S THINGS GOING THERE OK I HOPE.?
NOT GOING WELL HERE HAD ACCIDENT HERE THE OTHER DAY BIG TIME<< I WAS WORKING ON THE BOAT AND STANDING ON A LADDER AT THE TIME WHEN ALL OF A SUDDEN A RUNG IN THE LADDER BROKE. THIS CAUSED ME TO FALL INTO THE BOAT IN FALLING I HIT THE MAIN BULKHEAD AND THE RIGHT SIDE OF THE HULL. THEY CRACKED LIKE A GUN GOING OFF. BOAT AND ME SUFFERED DAMAGE TO SAY THE LEAST> MORE BOAT DAMAGE THAN ME. THOUGHT AT FIRST I BROKE A FEW RIBS BUT FEEL BETTER TODAY. AFTER THE DUST CLEARED I ATTEMPTED TO FIX THE BOAT BUT TO NO AVAIL. ITS OFF TO THE SCRAP PILE FOR IT (SAD TO SAY). AFTER SOME THOUGHT I THINK I WILL ORDER SOME NEW PLANS FROM YOU (HEAL UP) THEN START A NEW ONE. WILL BE SENDING YOU A MONEY ORDER IN A FEW DAYS FOR THE>>>TWISTER PLANS <<<
WILL GIVE IT A TRY.
WELL BETTER LET YA GET BACK TO WHAT YA WAS DOING.
BYEEE FOR NOW "WILLIEP"