---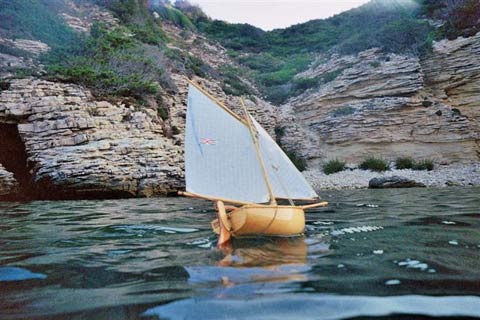 Pimpa hugs a coast
The fact that Flavio Faloci lives but a few yards from the childhood home of Christopher Columbus on Piazza Dante in the Northern Italian seaport of Genoa is of minor interest, because Columbus was born there a very long time ago, in 1451 to be precise, what makes Faloci the interesting person that he is comes from other aspects of activities closely related to the sea and boats far different from the types that Cristoforo Colombo sailed, far smaller in size also I might add. Flavio among his many attributes and talents designs and builds beautiful little model sailboats.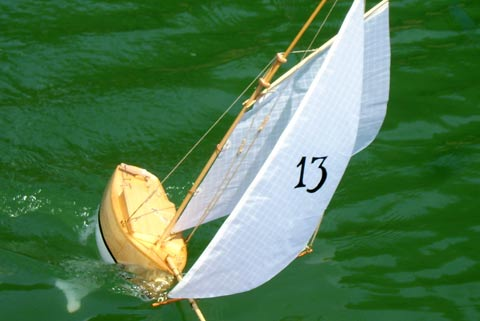 The first prototype of Presto taken at a regatta in
Sestriere on the border between Italy and France
| | |
| --- | --- |
| Faloci two master | 6" Pimpa on stand |
| | |
| --- | --- |
| A yacht for racing | Purely for display |
| | |
| --- | --- |
| Footy Brando | Whoopi heads into the wind |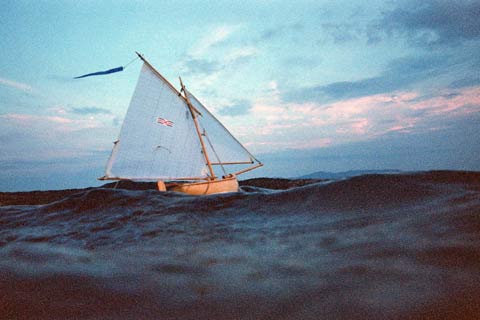 Little boat on a big sea
After studying both naval architecture and marine engineering in Trieste he then worked as a ship designer for several years and has designed several boats and yachts as entries to international design contests. A professional naval architect, he has applied naval architecture skills to models using existing software and his own programmes. Working as a freehand illustrator he does incredible sketches both in pencil and ink and is currently employed at the Head Office of Registro Italiano Navale, the Italian equivelent of ABS, the American Bureau of Ships.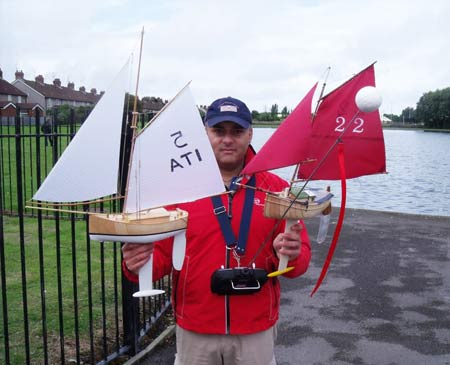 Flavio with two of his Footy designs

Presto MK II flying downwind -
Note the bowsprit attachment of foresail


Pimpa on a reach
Flavio also has a High School level degree for Merchant Marine Deck Officer and is the Italian Registrar for the Footy model Class. He and his wife Francesca have a son, Brando who is now almost four.
---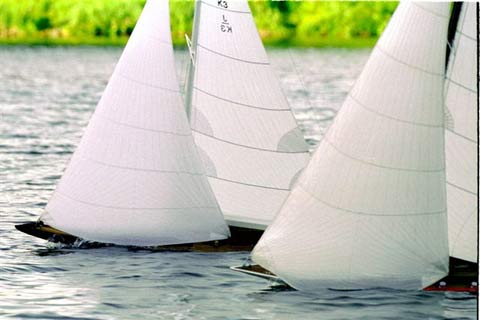 Two J Class Yachts tussle, Shamrock and Rainbow Both built by Franz Hemmersbach, photo by Hans Staal.
| | |
| --- | --- |
| An impressive Atlantic | Hans Staal gets low to get this! |
Nice idea I got to thinking a few months ago, of looking back over the years at a variety of fabulous models I have covered or omitted to share photographs of with readers, photos of often brilliant models of sloops, skipjacks, sailing barges, ketches and schooners, and photographs of models that have been taken by skilled lensmen., the resulting images often hard to accept as being of models.
So enjoy `Backward Glances' which I have fished out of my somewhat extensive computer data base – some you may have seen others not, they may remind you of how varied a world of model sailboating really is. For anyone who has lost the interest and is now pursuing a different hobby, it may even draw them back who knows?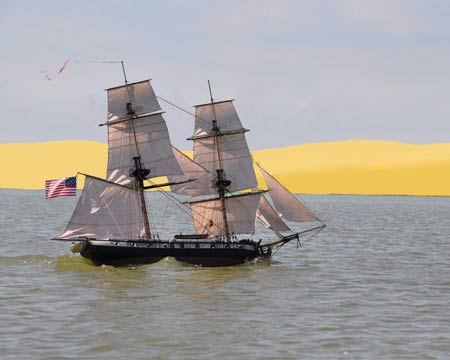 Dan Lewandowski's model Syren Sailing off Tripoli (well not really!)

Coming at you ! An old Lugger Ebenezer of the Clevedon & District Model Boat Club in UK heading for the camera (above)
The New Zealand `Fun Fellow' una-rigged prototype Island Spice owned by the writer (left)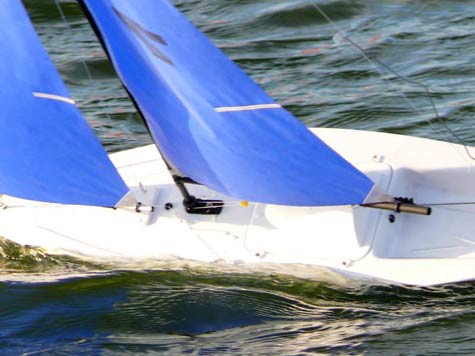 Blasting along - a Micro Magic
---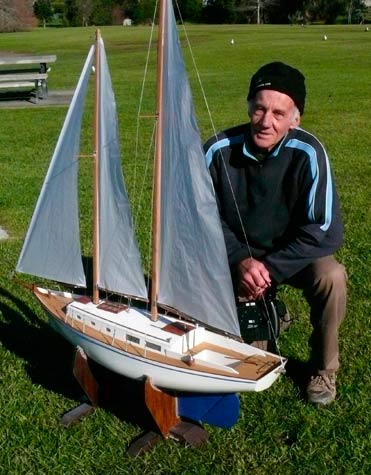 John Garner with schooner Ashleigh
John Garner of the city of Auckland, New Zealand is a new recruit to model yacht building, putting aside of course what he may have built way back in his youth in the pre-RC days.
The latest winner of the Ancient Mariners/US Great Schooner Model Society annually awarded trophy for the builder of a model multi-master of merit, John (left below in yellow raingear) was awarded the trophy on the 9th September, the trophy handed over as is customary by the previous winner, John Stubbs. Photo by Richard Gross, also a previous winner.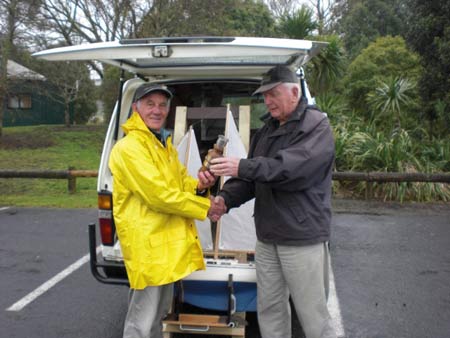 From one John (right) to another John (left)
| | |
| --- | --- |
| Ashleigh deck layout | Ashleigh side-on |
The nicely built schooner, Ashleigh so named after a granddaughter is 47.58" LOA, 41 and a quarter " length on deck, beam 11 and three quarter ", draught 7 and a quarter" and a height (keel to masthead) of 56 and a half ".
John drew up the lines after looking at various line plans on the internet, guided at times by photos of what he thought were good looking yachts. He then threw the lot into the computer and developed these using Autocad, printed them out fullsize after small corrections before cutting timber.
The keel is built up using eight pieces glued and screwed with four 5mm wood permanent frames. A 5kg cast lead keel weight is built into the keel and once the hull was completed he used a nother 1kg weight to balance the waterline fore and aft. Planking is hard grain balsa 3mm thick and then a coat of epoxy then a skin of fiberglass. Deck beams, carlins etc are 5mm wood with a 3mm ply deck which was then finished with a 0.75mm wood strip laid deck.
Masts are made from five strips of a fine grain mahogany. Standard rigging is stainless steel and all mast fitting are made from stainless steel also. Sails hauled in by a HiTec winch are of RipStop spinnaker cloth and a HiTec Servo operates the rudder. All the radio gear in the hull has been mounted on a single board that can be lifted out in one piece for adjustment or repairs.
---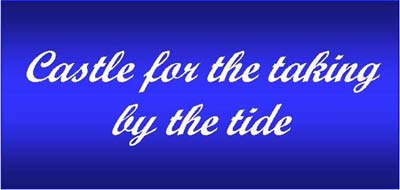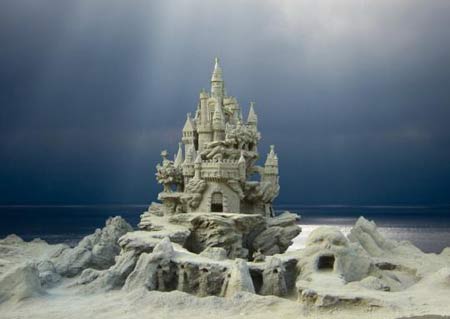 Okay! Okay! I can hear a few mutters …"That's not a yacht so what is it doing in this column? " Well, some of us on occasion sail our model sailboats in the sea, and the sea washes sand up on a beach in places upon which we walk so there is the connection - it is on the sand upon and out of which at some time in our early lives we have build castles, initially to amuse ourselves, in later years for our children. That is the connection, I am sure you've got it!
Sandcastle building (and I don't mean of the `fill a bucket turn it over, plonk it on the sand and stick a flag in it' kind) is now `state of the art' stuff, often a competitive tourist drawcard that is held each year in a great many parts of the world.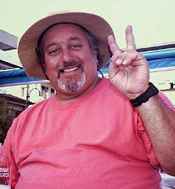 Richard Varano (pictured at left) has been making sandcastles ever since he was about six years old when he learned the trade and was bitten by the bug of enthusiasm while helping his father Frank in his role of so doing. Today, years (well,,,just a few) later he is among the most prominent castle builders on the planet who travels to American States and overseas countries demonstrating his skills at making castles in the sand. He has made so many castles huge in size and different in design, multi-turreted and towering above him he can't remember. Magic castles, medieval castles steeped in mystery even Dracula's Castle, and from his office in Central Florida he directs his `company' with it's own website which uniquely describes him as The Sultan of Sand which fits Rich Varano to the absolute T.
The castle seen above (and brilliantly photographed which suggests his mastery in that field also!) brought him the `Peoples Choice' award at an exhibition in 2007 in British Columbia. Now, you're not going to tell me that the castle created is just one done in an hour or three by a guy fooling around on the sand with a wooden spade and a plastic child's bucket whilst fortified by a couple of bottles of beer are you?
Far from it, this one took Richard Varano some thirty six hours and I don't even want to ask him how as it grew upwards he managed to add all those lofty turrets without the castle being felled in one swoop of a stray hand. Let that remain a mystery as magical as the mysterious castle already is. I simply don't want to know Richard! There is already not enough magic in life because inquisitive people simply are insistent in knowing everything!
From what I have read, Rich Varano who on email goes as `Sand Dude' is what an Australian might describe as an `enthusiasm-stoked bloke' and from my correspondence with him, that comes through strongly – the man is obviously absolutely passionate of what he is involved in.
Sand castle building is today an art form of creativity and one reads of indoor table-top building, of a museum of such creations, of `preservation' of such exhibits.
Richard Varano is my `King of the Sandcastle building world' …a Sultan of the Sand indeed. You know what? I might well be at the beach next Sunday, having a second go at resuming my little castle effort that became El Collapso Castle when an errant mongrel peed on it then charged through the structure barking as if to say `TAKE THAT!'
---

I remember reading somewhere that a boat owners log book contains the following recipe for his schooner, which concludes with: `Fifty gallons of beer, one pint of blood, sixty gallons of sweat, one bucket of tears, advice of experts, help of friends, the support and friendship of (his) Bank Manager and the love and support of a good woman – Mix slowly for eighteen thousand hours!'
---

Caribbean workboats competing in the sailing festivals of the smaller islands have funny `island lingo' names. Who Get Get, Fandango Mango, Shut Up, Breeze Buddy, Rum Dun, Bang de Bell Mon!, Funky Munky, Poppas Whoppa, Dat Com, WAAHHH 2, Watch me Bam-Bam, Rum Run Riot, Leroys fastboat, De Beat Bote, Babby Go and Intalekshul.
---

| | |
| --- | --- |
| Tea and biscuits while Viewing the windling | Schooner Seahawk |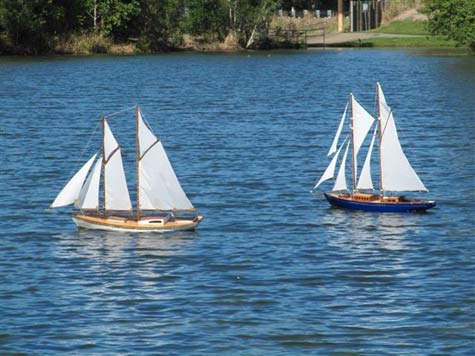 Schooner shakedown
| | |
| --- | --- |
| Jack's Schooner | The tug in case it is needed |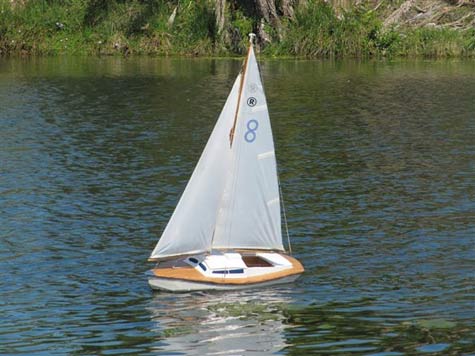 Ken's Sloop
My good Australian mate, Rick Mayes is another avid schooner builder and ultra keen sailor living in Maroochydore on the Queensland coast of Australia Like the writer a windler and social sailor at heart a few months ago he sent me some photographs taken at Lake Shore adjacent tp the Sunshine Coast motorway when a group of his friends, wives included sat on the banks to watch a few of the boats present go through their paces while all enjoyed a pleasant sojourn of tea and Aussie biscuits under the Queensland sun. (Hey what's wrong with kiwi biscuits?)
Two schooners, one the Sea Hawk of Rick's and the other Jack Everitt's white gaff rigged schooner along with Ken Leadbeater's `Robin' Class sloop are seen on the water in photos above, while Graham Pettigrew's tug kept a watch in case needed.. Altogether a pleasant social sailing interlude in the Queensland Australian sunshine.
---


Mike deLesseps of Maine, USA's realistic little British design tug Brutus
shares shallow water with a tiny schooner Suzanne, also built by him –
one of the incredible little schooners built for my Challenge.
Next month's (February) column will give you the results and announce The winners of the smallest RC (and freesail) schooners on Planet Earth.
Before that, Marine Modelling International's February issue which goes on sale 27th January in bookshops will have a full story. That is well worthwhile looking out for and getting a copy of.

-30-