The ULTRA-PRAM was conceived by Roland Moose of North Carolina. He wanted a portable yet robust boat for daily fishing trips - one that was stable and had plenty of room for his fishing gear. So, Roland Moose of North Carolina contacted me and asked if we could collaborate on a design. The end result is the ULTRA-PRAM. It is a 2 module portable that, when nested, will fit in his pick up truck for transport to the water. It will also fit in some larger SUV's, I suspect. The key feature of the design is it's small size on the outside, and big size on the inside. Although only 99 inches long, the ULTRA-PRAM can seat 2 adults and 2 children comfortably, and still have room for gear. The recommended minimum power is a 40 pound thrust trolling motor, and it will take up to a 4 hp outboard. It can also be rowed or paddled, for those close in, shallow excursions.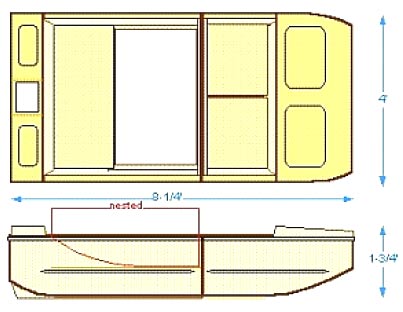 Ultra-Pram Specifications:
Length: 99 inches (plus optional center module)
Width: 48 inches
Width at chine: 38 inches
Height: 21 inches
Weight: 85 pounds (without battery)
Draft: 5 inches (motorized)
Max load: 600 pounds
Motor: Electric to 4 hp max
Hull Speed: 4.5 mph
Nested Dimensions: 57" long - 48" wide - 27" deep max.
Design Features:
2 modules, Bolt together, Nesting Hull
Stand up stability for fishing and hunting
Seating for 2 adults and 2 children
Abundant storage for camping gear
Fits in any truck, most SUV's and some RV's
Can be set up and operated by one person
Safety Features
Excellent freeboard
Built-in buoyancy chambers
Rugged Plywood construction
Can be fiberglassed for extreme use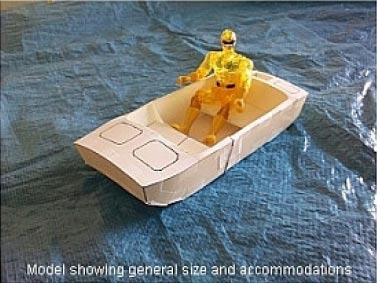 The general outline of the design is fixed, and the plans are complete in describing all necessary assembly steps. However, there is room for the builder to modify the interior to satisfy their particular needs and requirements. Roland, for instance, will put a tall removable fishing seat in the aft module, replacing the sliding seat shown on the plans. Other different storage compartments could also be created, perhaps for a cooler, or a water filled fish box. The options are many. I have included in the design 2 buoyancy compartments, for safety purposes. These could also be modified to allow storage for larger items, such as camping gear. The end result would be a customized boat for a very specific use.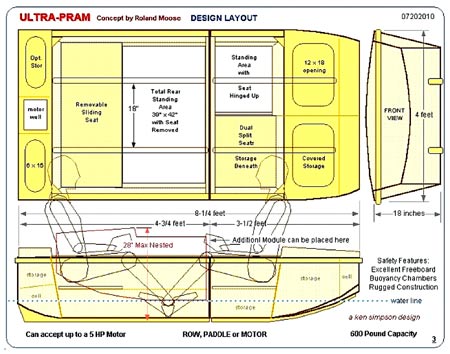 As shown in the layout, under seat storage is available, for easy access. Seating arrangement varies depending on use and load. The addition of a heavy outboard motor requires a different seating plan than the use of a light trolling motor on the transom. The battery can be placed under either seat.
Assembly is very straight forward, as the size and shape of the various panels are easy to cut and fit together, with simple glue and screw technology. Final assembly uses my 'Tape & Glue Process' for absolute sealing of all external and internal seams, for strength and waterproofing.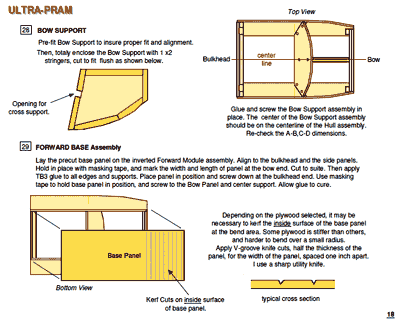 click image above to enlarge
As can be seen from the assembly page above, only average woodworking skills are need to put ULTRA-PRAM together. There are no fancy curves, and mostly straight sides. Some skill is required in the 'kerfing' of the forward base panel, but even there the builder has options, such as strip planking. Many of the building procedures used in construction have been tested on previous designs, and have proven safe and effective for small boat design. Overall, this should be a fairly quick build, and when complete it takes up less than 8 square feet of floor space for storage (sits on transom end).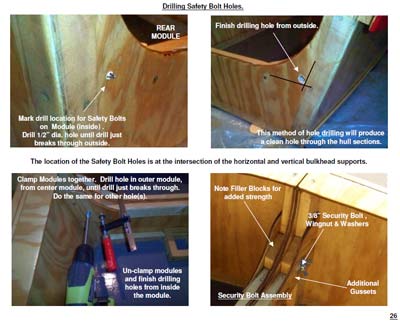 click image above to enlarge
Securing the two modules together is of some concern to some people. The method used is the bolt and nut system. The modules are clamped together and 1/2 inch holes are drilled at a defined location through the common bulkheads. This allows the use of 3/8-16 UNC Hex Head Machine Bolts to be installed at the time of assembly at the water. This method has proven itself on many of my designs, and it simply is the easiest and most secure way of joining the 2 modules together. The bulkhead areas are designed to provide strength in this area, and distribute the torsional load up, down and sideways on the bulkhead face for greater safety.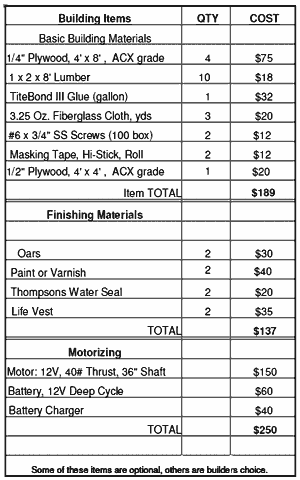 Finally, what does it take to construct the ULTRA-PRAM? The above item and pricing data should provide a good overall view. Actually it is under $200 for the basic hull materials (plywood, screws, glass cloth and glue). Finishing materials (paint, water seal etc.) add another $60. And then there is safety equipment, like PFD's and Oars. Then the power plant, something you have on hand, or have to purchase.
ULTRA-PRAM was designed with a specific purpose in mind: An all-round utility boat capable of transport without a trailer, providing safe family fun on the water, or the sportsman access to remote areas, with an easy to build, easy to set up boat that can go just about anywhere.
Happy Boating, and always wear your Personal Flotation Device!
Ken Simpson
www.PortableBoatPlans.com
www.duckworksbbs.com/plans/simpson/
*****
Ultra-Pram Plans available for download at Duckworks - CLICK HERE