Avocet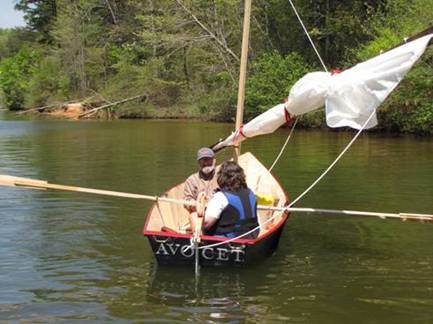 I just finished building Avocet using the $200.00 Sailboat plans I bought from Dave Carnell years ago. Mine is a standard instant boat with a ¼" BC exterior plywood hull and yellow pine framing. The seams are taped. No leaks on the successful maiden voyage.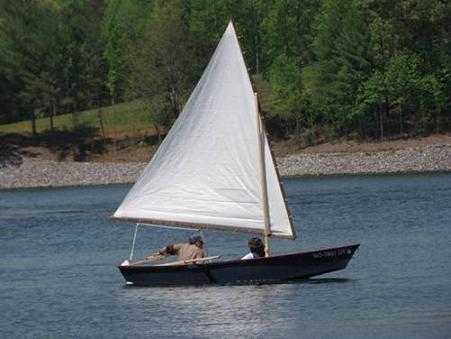 A few tips: I decided on an interior chine because it makes taping easier and I think it looks a lot better. I used 1½"×3" framing on the transom so that the fasteners for the gudgeons, gunwales, sides, and handles are long enough to really hold. I highly recommend installing handles. They make the boat much easier to carry and turn over. Duckworks has good brass ones (SD-222356 - Brass - $11.19). Duckworks supplied the fiberglass tape, epoxy, oarlocks, pulleys, tiller extension fittings, and lines.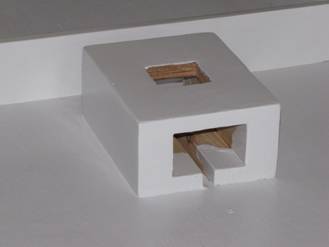 The step allows water to drain and eases the mast heel weight on the ¼" ply bottom. Looks like I missed a spot . . .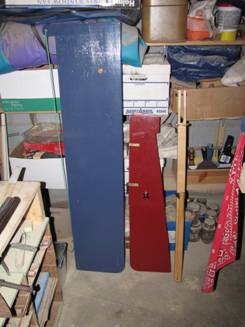 I ordered the rudder, tiller, and leeboard silicon bronze bolts from CCFasteners (https://ccfast.com/index.html), which offers screws and bolts of all types, and you can buy just one. Notice the knob nut on the rudder for easy adjustment. The leeboard has one, too. I bought a Sunfish sail from The Sail Store and built spars to match it. I used lap joints on the gunwales and runner which made gluing easier. The plans say the shoes and runner are optional, but I am glad I put them on to protect the bottom and add stiffness. I did not glue them in case they needed replacing. These web sites helped me greatly: 
https://ginzorama.blogspot.com/2010_04_01_archive.html
https://www.simplicityboats.com/featherwind.html
https://www.duckworksmagazine.com/01/articles/featherwind/index.htm
https://www.angelfire.com/ex/ti/FWmain.html
https://boatbuild2006.blogspot.com/ 
Sadly, I don't know where to find plans for this boat. The lines are from the Bolger Featherwind design. I have a blog on the build with more information (https://david-greenwood.blogspot.com), and I will be glad to answer any questions left in the comments there. Also, let me know if you know where to find plans. 
Dave Greenwood
---
Jason's Trimaran
Jason Nabors launched his self-designed trimaran just in time for the 2012 Texas200.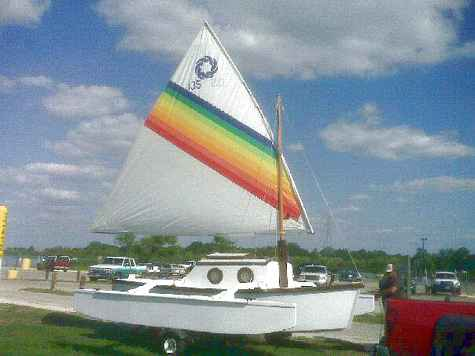 Lots more on his facebook page:
https://www.facebook.com/profile.php?id=1746861038
Here is a video:
---
Ella B.
I finally got my newly built Piccup Pram Ella B. in the water and off for a brief sail. She is built mostly to plan from Lowes-Depot materials and the boat specific bits (epoxy, fiberglass, hardware, etc) from Duckworks. The only main deviation from plans being the larger sail rig from the Ladybug design due to the lighter winds our lake gets in the summer months.
Ella B. is a name chosen by my wife and is shared by our family dog. She thought it best not to name my first build after one of our young girls in case it refused to float. So far the boat has been a leak free success and handles well under oars and sail and the girls love it which is all I could hope for!
Thank you Jim for the great design and quick response to emails. Thank you Chuck for the great service and having so much to offer the home boat builder.
Matt Pinkley Roanoke, VA
---
Bolger's Nymph in Czech
Boy scouts in Ostrava (Czech Republic) has Bolger's Nymph name SOTEK.
Photos from Jan Bolek
---
Splash in Tasmania
Here's some pictures from a KD 860 built in Tasmania. It is not every day that I get pictures from a boat where you can see or almost feel the quality of the build.
The boat was built over a period of 2 years. Often plans are interpreted by the builders and not always to the satisfaction to the designer. Here's the opposite, all changes are improvements.  I like the unusual color scheme too.
To get a feel for his build here also some pictures from the boat under construction.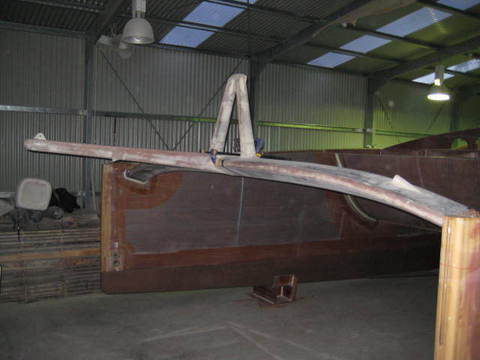 Watch gull striker also made from wood/carbon/Epoxy.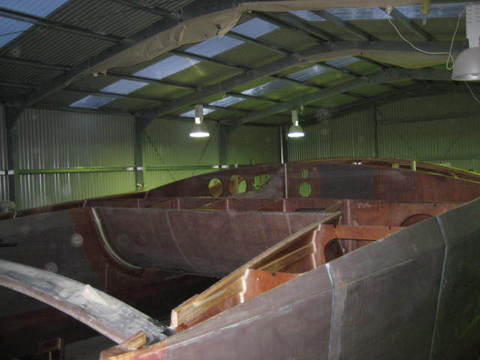 Wood fore beam connection.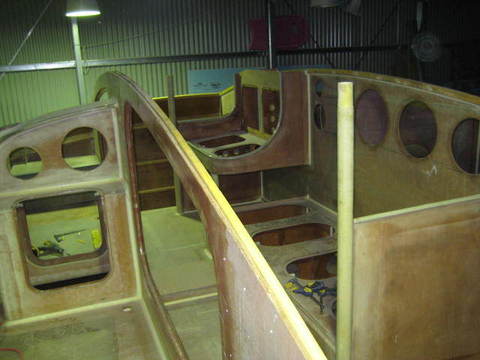 Construction on its way.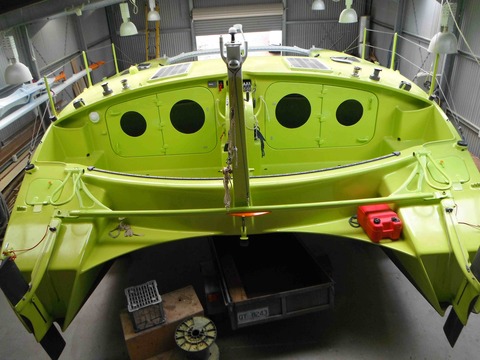 Transom view. The entrance doors are removable. Look at the mainsheet traveler.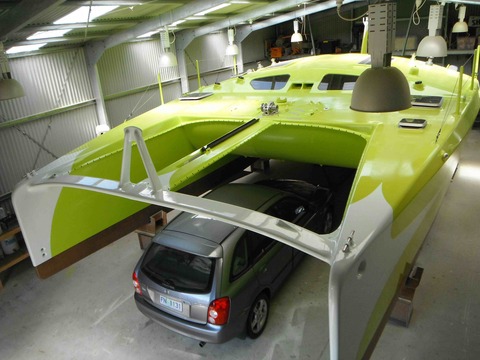 Front top view.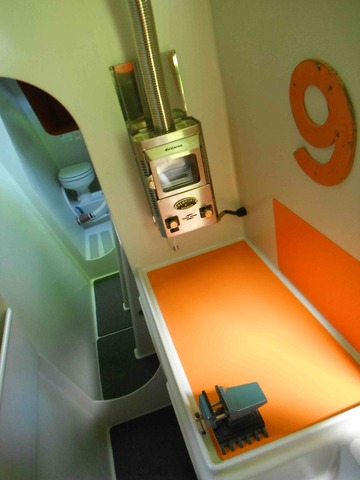 Work space with heater.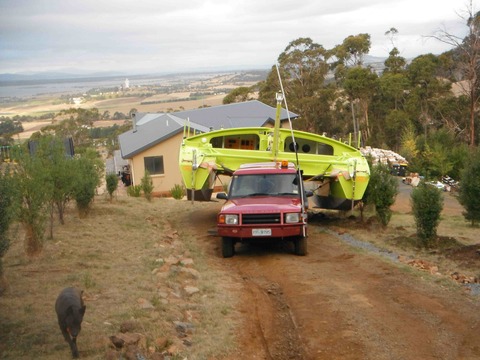 There she goes. Watch removed doors.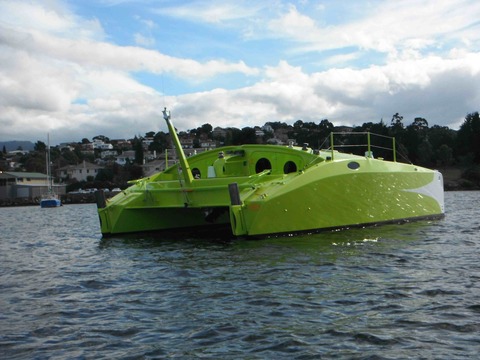 At last, floating.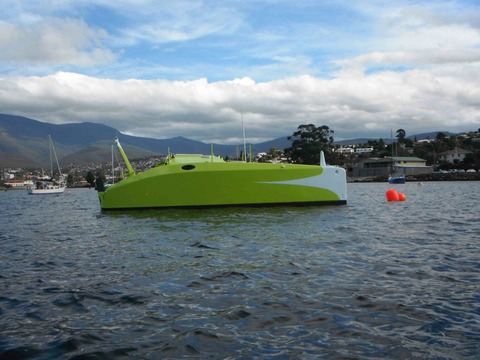 At anchor.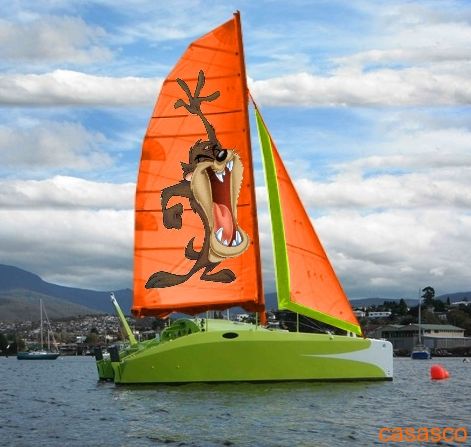 Here the boat with a rendered rig from my friend Casasco, Brazil fit for Tasmania.
I think the KD 860 is a good example how a (ply)wood/glass/ Epoxy boat can/should look.  
Look at the cleats and chain plates made from carbon fiber and UD glass. The details of the rudder link and tiller extension are also very interesting.
Bernd
https://ikarus342000.com/P86page.htm
---
No Man's Land Launched May 3, 2012 at Cedar Key, FL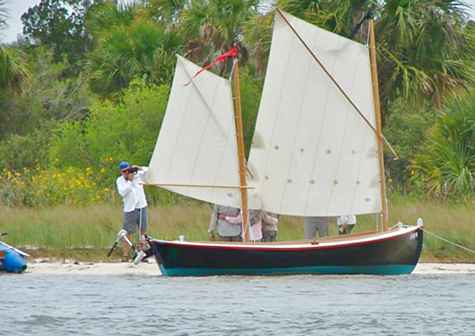 Cypress strip construction, Mahogany seats, birdsmouth hollow fir masts built from description by Aime Ontario Fraser in Jul/Aug 1999 issue of Woodenboat. Plans from the Smithsonian, documented by Howard Chapelle, 1882. No Man's Land boat originally built by Beetle in New Bedford, Mass. Rex and Kathie spent approximately 650 hours each building the boat. Construction was started on Oct 17, 2011 and completed May 3, 2012. Launched at the West Coast Trailer Sailor Squadron small boat gathering at Cedar Keyon May 3. Sails sewn by Kathie from a Sailrite kit.
Rex & Kathie Payne
photo by Ron Hoddinott
Additional photos at https://ftp.ij.net/wctss/wctss/photos88.html
---
Haps Cut
Haps Cut sailed for the first time today and it was GREAT. I was honored by all those that drove over to see the launch and help out. John Votaw, Chuck Pierce, Cathy Wright, Chris Tomsett, Gordo Barcomb and a few others, thank you for your help. Rosa and I are very happy with how the boat sailed. It tacks, gybes, sails upwind, reaches and goes downwind well. It even works as a powerboat. What a thrill! We sailed around for about 3 hours with Chris and Cathy on "Caprice" and even did a mid-lake transfer of Gordo from Haps Cut to Caprice without dinging the boats or dropping Gordo in the water. I think that is a testament to how well both of these boats can sail in 15 knots of breeze. The afternoon breeze kicked up and we put in the #2 reef and the boat still sailed well. Texas200 here we come.
We are very happy.
PS. My mast is very bendy, scary bendy.
John Goodman
---
Stacy Smith's Bufflehead
I've built 3 small boats, have a used sailboat and a 17 foot aluminum canoe, but the small boats require trailers, and the big old canoe needs a crew to help unload it. I've just built a Bufflehead 50/50 Sailing canoe. I'm building it light (4m okoume) for this purpose: to be able to act on a moment, and stop missing out on a second level of happiness that is free for the taking.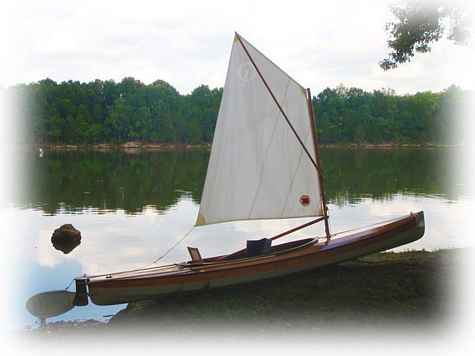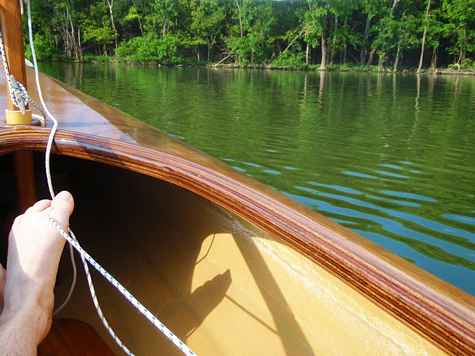 I splashed the Bufflehead recently. Here is a shot from her maiden sail; the wind was so light that I left the boom stowed and went loose footed (no pun). What a great design and source of joy.
Stacy
---
Northwest School of Wooden Boatbuilding Launches Gaff-Rigged Sloop
The Northwest School of Wooden Boatbuilding www.nwboatschool.org on Washington's Olympic Peninsula recently launched this traditionally-built 16-foot gaff-rigged sloop to designer Leigh Coolidge's
1923 lines. The carvel sloop is built with a Douglas Fir backbone and western red cedar planking and decking. Sails were sewn by Northwest Canvas, co-located at the School. The boat is for sale for $16,000 (or best offer - try us!).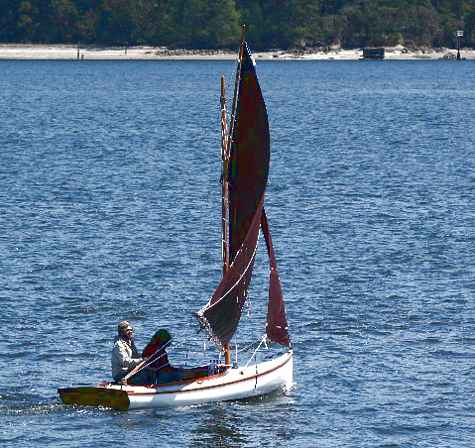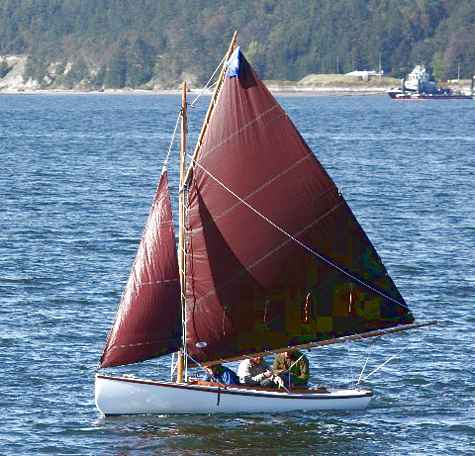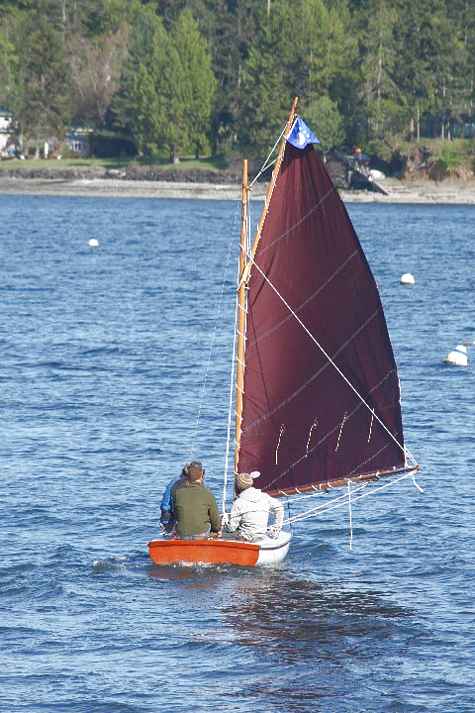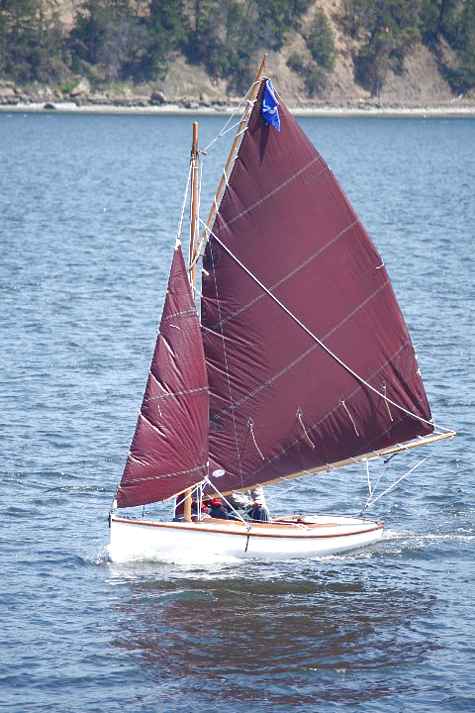 We're accepting registrations for our 2012-2013 class to begin October 2nd, 2012. We're fully accredited, certified by the Department of Education for grants and loans for qualified applicants, and teach three year-long courses in traditional and modern wooden boat construction techniques to adults from 18-80 and beyond.
Pete Leenhouts
Interim Director, The Northwest School of Wooden Boatbuilding
42 N Water Street, Port Hadlock WA 98339
www.nwboatschool.org (See us on Facebook at https://www.facebook.com/NWBoatSchool)

2012 - our 31st year teaching and preserving the skills and crafts associated with fine wooden boatbuilding and other traditional maritime arts with emphasis on the development of the individual as a craftsperson.
---
18" Toy Boat
Here's a different story - an 18" toy boat taken from the design "Frosty" as seen at Absolutely Free Plans:
https://www.polysail.com/Frosty.htm.
I made this little gem for my grandson Rio. It so happened as I was thinking about building an enlarged 12' Frosty I got a call that my son and his family were coming to visit. I had previously lofted out an glued together an 18" paper model. Right away I decided I would make Rio a wooden toy fishing boat using the model's dimensions. Rio is 5 and loves everything about fish. I knew it would have to be tough enough to hold up to serious playtime at the beach and on land. It is - I made sure of that - then I covered it with several coats of epoxy.
The little boat turned out dandy and was ready when he arrived. He loved it. The last touch was to include a fish well for rocks, toys and whatever his imagination desired. The mast is removable by pulling a pin that is lashed into place. The pull cord can be stowed.
We spent a lovely day at the lake for its maiden voyage. He looked every bit like Christopher Robin towing it along behind him with his imagination in full gear. He also spent hours coloring the paper model in the evening after we got home. Great toy, well worth the time and effort!
Rio loves everything about fish and the sea. He fishes as often as he can - without a hook, just the lure, because he doesn't want to hurt the fish. He now tells me he's ready for a real boat so we plan on building a one sheet wonder together this summer - converting him to boatbuilding one step at a time...
---
Wa'apa
After about 19 months worth of very part time work, I'm happy to say that I've finally "splashed" my Wa'apa outrigger sailing canoe with a sail on it this past Friday (May 18, 2012). With the weather being sunny skies, hovering in the mid 80s temp-wise and winds at 8-10 MPH, it was perfect to be out on the water. I got on the lake about noon and sailed until 4:30PM. Plenty of time to put the boat through its paces.
The canoe sailed much faster than I'm used to sailing in my old Elegant Punt (Duckworks Magazine Splash, June 2010). I covered about five times the area of water that I normally do in the dinghy, in the same amount of time. It was great! I had the GPS on my iPhone on for half the day and got up to 6.19 MPH. I'm sure I went faster as I became more comfortable in the boat, later in the day. The wind had also picked up a bit by the time I decided to call it quits.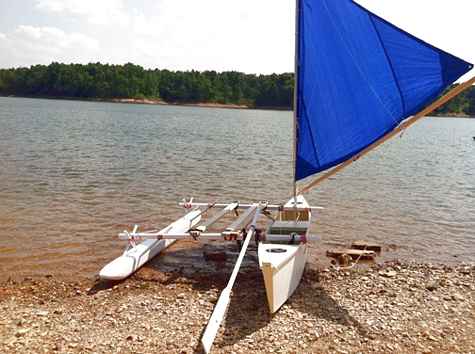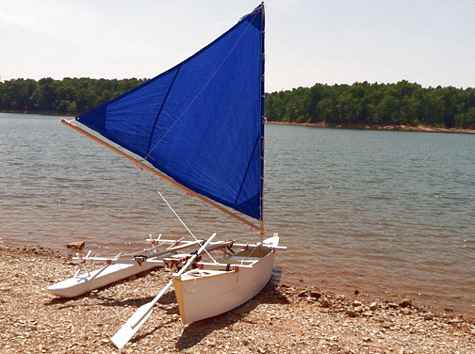 This summer on the water is going to be a blast!
Trevor Akin
Springfield, MO
---
Tread Lighty
I finally finished the build. I have made many purchases from your site and found that you have a great business.
Here is a link to my blog for the boat.
Brandon
https://brandons-treadlightly.blogspot.com
---
Andy's Junk
I saw this concept drawing by Andrew Linn on the yahoo PDGoose forum. I liked it so much I just had to build it. Andrew was gracious enough to answer a ton of emails about the details as I went along. He also made a killer set of sails for it. I got all my hardware from Duckworks. Chuck did the impossible and advised me on the types and kinds of hardware I needed based on only a couple pics. She sure turns the heads on my local lake. Thanks to Andrew for all his help and to Chuck for his advice on rigging.
Gene Berry
---