Sparrow Progress Photo
Here is a progress photo on the current boat - Sparrow - 42 hours into the project.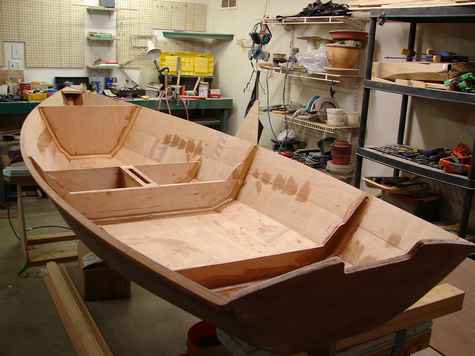 Attached are a couple of other progress pix - this has to be the visual low point for a stitch & glue boat but structurally, I think, a high point!
"Discovery" is a boat I just finished designing and will be built next fall.
Bill
---
Restoration Project
I think I need a little help and guidance as I progress through my first boat ownership. Living in the Pacific NW there is lots of water to play on. I have never owned a boat but always wanted one. (Four years in the navy, three tours to Vet Nam) go figure. Now an adventure finding out what the boat, motor and trailer are, and restoring it; and sharing in some family adventures. I was offered the boat and trailer combination for free, just a get it off the property kind of a deal. It had been sitting in a back yard corner for over 7 years. I sent pictures to my son, he came and looked and we agreed to take on this project Towing the boat home, a flat tire, so the boat was left beside the road, A trip to get tires, 2 new tires and rims, cost $120.00 and on top of that when we returned to the boat we found that a smaller trolling motor was taken from the boat while we were gone. So much for a "free" boat project. I did some research and believe the trailer is a Tee Nee trailer, but I cant find any decals or a model identification plate I am still researching the Mercury motor and the boat itself. All of the motor is there, and it spins over freely when the pulley rope is pulled I contacted the Snap On web site and they have no information about any boats built for them, but as you see, the snap-on logo is on both sides, original to the boat. The boat hull is in good shape, but the plywood needs replacing If anyone has any information about the boat, motor and trailer we would appreciate the help and guidance we can get. Attached are pictures of the boat and trailer set up. I will start a project photo album and share progress on this "free" boat project.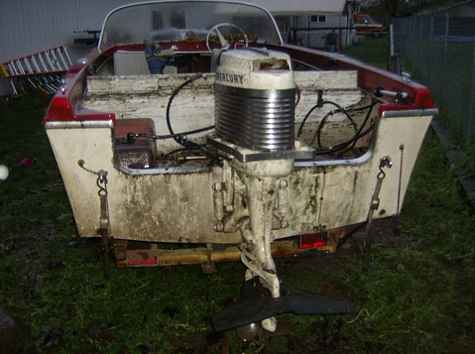 Thanks very much
Russ Williams.
P.S The boat turns out to be a 1959 15 1/2 ft fiberglass hull made by Kennis according to Oregon Dept of Motor Vehicles. My son and I cannot find any info so far on Kennis as a boat manufacturer.
Please reply on https://groups.yahoo.com/group/dwforum/
---
Eastern Messabout
Hey Folks! Spread the word!
We (Steve Bosquette and Bob Throne) need your input .. we'd like to see your boat, sail with you - and maybe swap tillers, and swap ideas, stories, and boating yarns .. preferably over a good meal (potluck) by the water.
So we've started a Yahoo Group hoping we can put together a good time in 2011. It is described as:
"Information about and for people who want to gather to "mess about" in boats .. sailboats, powerboats, canoe & kayak .. home built or manufactured .. 6' to 25 -35'.
Two were held in 08' and 09' at Hawk Island Marina, on the Rancocas just off the Delaware River north of Philadelphia. We had a great time and there are write-ups on Duckworks magazine online.
But there was no beach and limited camping, and couldn't find a better location for 2010. ... SO ...
1 - do you know of a venue with ramp, beach and campground say between northern Jersey, Southeastern Pennsylvania or southern Maryland/Delaware?
2 - are you interested and would you like to come?
3 - What time of year would you suggest .. avoiding the Michalak Rend Lake Messabout Fathers Day, the Texas 200, and the Mid-Atlantic Small Craft festival in the Fall?"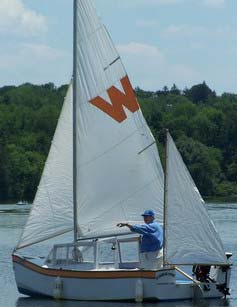 Here's the url: https://groups.yahoo.com/group/EasternMessabout
Fair winds,
Bob Throne
(My boat is a self-designed "Wanderer" - 15' x 6'9' pocket cruiser, yawl rigged launched in 07' (balanced lug planned for next season.)
(Steve has built more than a dozen, of which a Bolger Sneakeasy has been his favorite .. he's design something new for next season.)
---
Ocean Explorer II, Sort of
I've been a fan of Duckworks for a while now, and I've purchased plans and daydreamed about building small boats for longer than I'd like to admit, so I just decided to start one. I've attached two photos of the build and a bit about what the heck it is. Thanks so much for considering my little build for inclusion in Duckworks.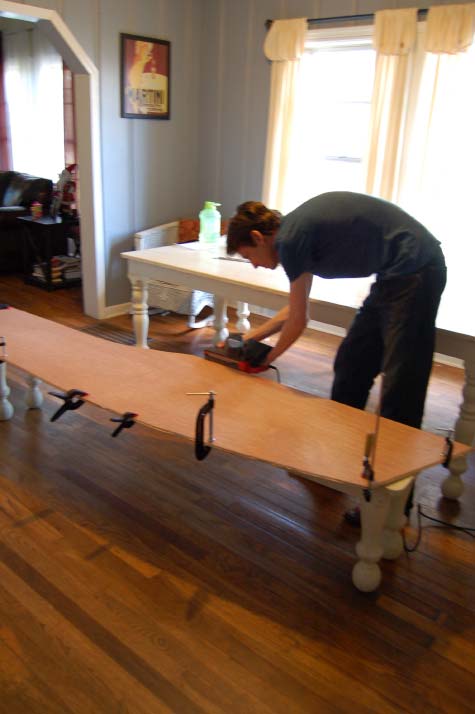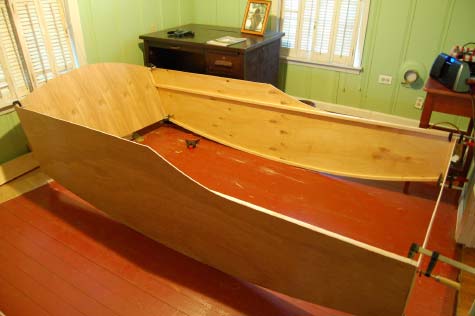 So after way too many hours looking at boats and daydreaming about boats and talking about boats I decided to grab some plywood and a saw and go at it. I chose to build a modified Ocean Explorer, designed by the talented Perttu Korhonen. His boat is so well thought out and will allow for an overnight or two, and other than the off-center opening and lack of swinging centerboard (we have loads of shallows around Alabama) it was perfect. After looking over photos of his build I decided to go at it, planning as I build, and with a little luck come spring I'll have an Ocean Explorer with that off-center swinging centerboard, a centered companionway (probably two storm boards that simply slide in place) and just enough room to take my little ones for a sail. I haven't finalized it yet but I'm thinking of naming her in honor of the original designer. How's "Perttu's Revenge" sound? And Perttu, I haven't actually purchased your plans yet, but I promise I will. I have a feeling after I get the bottom on I'm going to need some guidance.
Eddie Burkhalter - News Editor/Staff Reporter The Piedmont Journal
https://thepiedmontjournal.com/
---
Donald McGinnis
In 1958, my dad (Donald McGinnis) had plans for a houseboat published in Boats Today, by Universal Motors in Oshkosh WI. We found a copy of the catalog, but my dad's plans were missing. We'd sure like to find another copy of the boat plan book with his plans intact. Have you any ideas for us? The company was bought by the Nash company and by the Crouch company which I plan to call, but I don't have much hope for success down that road.
Thanks, Pat Baganz
Please post answers to the Duckworks forum at:
https://groups.yahoo.com/group/dwforum/
---
Classic Yacht Magazine's Annual Gift Guide is Here
I'd like to remind you to enjoy the November/December 2010 issue of Classic Yacht by clicking here:
www.classicyachtmag.com/currentissue.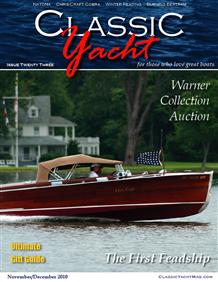 We've got great video, photos and news from around the yachting world, including full coverage of the remarkable Warner Collection auction recently held in Minnesota, where 126 classic wooden boats were sold at no reserve. And be sure to read the story of Far Niente, the first Feadship and a piece of floating history. Our annual Christmas Gift Guide is in this issue, so forward this to everyone who thinks you've been good. There are gifts in here at all price ranges, from a custom Classic Yacht magazine cover with your boat on it to Trumpy yacht charters. And don't miss the amazing video of what happened once a fire broke out aboard a classic Bertram loaded with ammunition.
There's more. Lew Barrett offers an insightful take on painting a wooden yacht. We document the history of the Chris Craft Cobra. And there's so much more in this issue. As always, the PDF file is available for printing or reading offline. And it's still free!
We welcome your input. Feel free to contact us with your take on the magazine or to tell us about a great story we can share with our readers in a future issue. Tell your friends that their free subscriptions to Classic Yacht await them at classicyachtmag.com. Enjoy!
Bill Prince
Publisher
Classic Yacht magazine
---
February 2011 Welding Workshop at the Boat School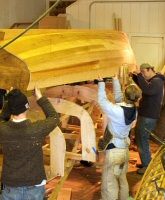 The Northwest School of Wooden Boatbuilding is offering a workshop
for beginner and intermediate welders during the month of February.
The workshop is designed to teach new techniques and to improve on
ones already learned. Taught by experienced instructor and welder
Lisa Walsh, she will patiently guide you through projects to teach you
new skills, or on your own creative personal projects. Personal projects
could include art sculptures, garden sculptures, furniture, or anything
you can imagine. Classes are conveniently held on Saturday mornings,
from 9 a.m. to noon, from February 5th-26th. All ages, backgrounds,
and experience levels are invited. The course takes place at the newly-
built welding shop at the Boat School in Port Hadlock. All equipment
and materials are provided to do stick, mig, and tig welding methods
and fabrication. The tuition for the course is $150. Call the Boat School
to enroll or for more information at 360-385-4948, ext. 300 or 304, or
visit our website: nwboatschool.org.
---
CRBB Update
The beginning
The lofting of the scale scow began on Saturday. The main lines are down and one frame station is done. We will begin building the ladder frame and some boat frames this week. We would like to start the rigging at the same time. It will involve making the spars, model blocks, simple sails, and rigging details. It would be great to have a couple of builder's working on this with one taking the lead. Please let us know if you have interest.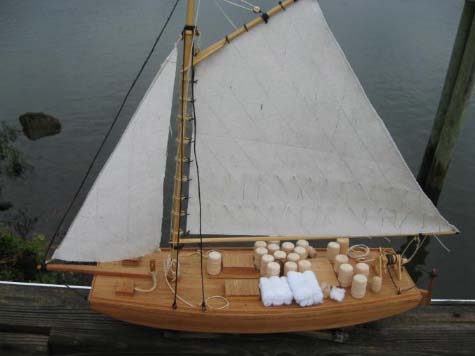 The punt has been in the water a few days and seems to be sealing up well. We'll have a better idea in a few more days.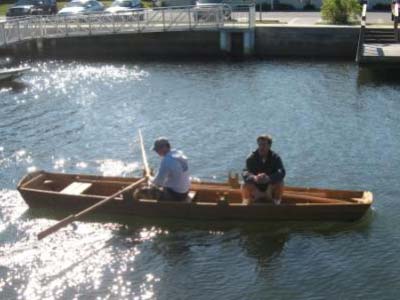 Check out the treadle scroll saw Mike built and donated to CRBB. It is beautiful and works great. We are now on the FACEBOOK ,Got to keep up with the times. Find it, friend it, make it grow.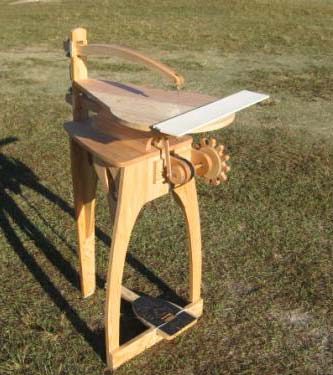 William Whalen
---
Veolia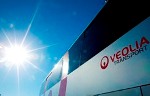 For those of you who are considering a trip to Brisbane, Australia for the Brisbane to Gladstone Yacht race (or for any reason at any time of year), consider using Veolia Transport to and from the airport. It's a great service.
Mike John
---
Book Review
Fatal Storm: The Inside Story of the Tragic Sydney-Hobart Race by Rob Mundle, 1998.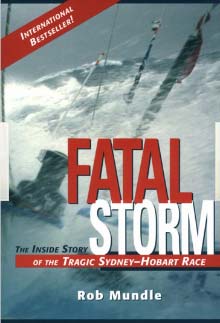 I recently visited my parents in Brisbane, Australia. Suffice to say, I needed something to occupy myself between breakfast, morning tea, lunch, afternoon tea and dinner (including dessert).
A copy of fatal storm was on the coffee table, so I picked it up and started reading. The book was quite a surprise in what I learnt from it. The story is about the Sydney to Hobart Yacht Race in 1998. This was the race where it all went a bit wrong. The weather was extraordinary.
The story begins with an introduction to the key boats and sailors. (I did skim through this a bit being impatient for the storm, but I wish I had not.) Mundle points out that he avoids much of the controversy of the race and gets to the point of the book - the experiences of the crews based on interviews and other material.
As the boats were heading for Bass Straight, a low developed in Bass Straight and the winds were cataclysmic. Some winds speeds were reported to be around 90 knots during the race. A rescue helicopter was doing 60 knots into the wind and achieving a ground speed of 10 knots. With the harsh westerly winds behind them, the helicopters were doing 200 knots towards the vessels in trouble (being careful not to spoil the book with too much information here but it was big trouble.) One helicopter was hovering at 100 feet and moved to 150 feet to go over a wave they spotted. The wave passed 10 feet below the helicopter.
This read is gripping. What did I learn? I learnt I need to know how to set off a flare, before a race. Never wear your water triggered inflating life jacket under your wet weather gear unless you have a knife to stab yourself in the chest to avoid a crushing injury. A hull can get holed, but a mast breaking off when it hits the water in a knockdown damages the cabin top allowing lots and lots of water to enter as the waves break over the boat and this can be just as bad as a hole in the hull. (This problem happened to more than one boat as cabin tops are weaker than hulls in many boats.) Fibreglass will delaminate in tortured conditions. The list could go on.
There are many lessons in this book. Learn from those who went through the turmoil and the nine who did not make it back. Do not read it in front of other people on a cruise. (Thank you to the guy who was reading an article in a newspaper on aircraft engines catching fire in front of me while we were in an airplane thousands of feet above the ground in northern NSW.)
Amazon.com has a copy or two. I'm sending Chuck a copy. Don't tell him, it will spoil the surprise. If he brings it to the Texas 200, toss it overboard.
Mike John
---
Beachcruising Trip to Corio Bay (North of Rocky (Rockhamption, Qld, Australia)).
Attached are a couple of blurred photos to show the rigors of beachcruising in heavy rain, blustery wind, heavily crocodile-infested waters, and isolation - great fun!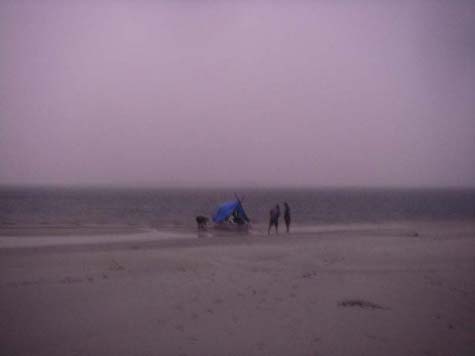 The boat below is Phil Bolger's Sharpshooter design with the addition of a slot-top cuddy-cabin.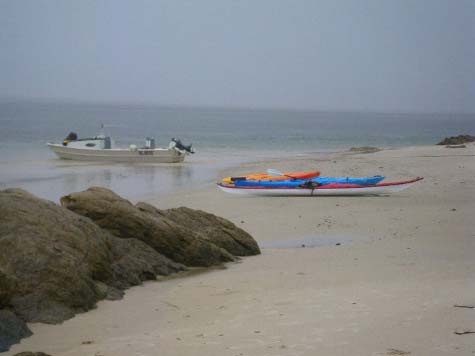 Cheers,
Ross Lillistone
www.baysidewoodenboats.com.au/
---
Product of the Week: STIDD Low-Profile Box Mount Seat
Friday December 17, 2010t
The low-profile, adjustable box mount seat from leading ergonomic marine seating manufacturer STIDD Systems, Inc. has been designed for small to mid-size boats where seats are installed atop storage cabinets or fiberglass boxes.
The STIDD FA series with a fixed, seven-inch seat height incorporates a new fore/aft mechanism with eight inches of travel that is adjusted by releasing an easy-to-reach paddle at the front of the seat. The front edge of the pedestal is squared-off to allow seat positioning close to the edge of the box or cabinet. Available for STIDD 500N (Slimline) and 500 (Full-Size) seat models. Powdercoat finish.
More info: www.stidd.com or call 1+631.477.2400, ext. 120.
STIDD Systems, Inc. – 220 Carpenter Street, P.O. Box 87 – Greenport, NY 11944 USA
---
Product of the Week: Aquatic AV Digital Media Player
Friday November 26, 2010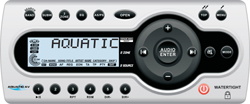 Now there's a waterproof multi-function marine digital Audio/Video media player that can be installed onboard where other systems can't. The new IP-4 rated thin Digital Media Player from Aquatic AV can be flush mounted on almost any flat surface. (RDS, 4-channel power amp (77 watts x 4)). Also incorporates full iPod/iPhone, USB and Sirius/XM tuner user interface ability and can transmit via RF all user interfaces to up to four compatible, flush-mounted controllers. An optional Waterproof (IP-66) 2-Way Floatable Handheld Wireless Remote has a range of 50 feet and can control all the audio/video functions, lighting and other onboard accessories.
More info: www.aquaticav.com or call 1+408.559.1668.
Aquatic AV - 1476 Camden Avenue - Campbell, CA 95008 USA
---
SHAKE THOSE WINTER BLUES: 2011 KANSAS CITY BOAT & SPORTSHOW OFFERS DOSE OF SUMMER FUN
Shop the Hottest New Boats, RV's and Outdoor Gear January 13-16
KANSAS CITY – (November 23, 2010) – A recent report from CBS Money Watch identified buying a boat as one of the top ways to "buy happiness." That's not surprising given that boating connects people, bringing them together away from the stresses on land and transporting them to a place where they can deepen their relationships, spending quality time together.
The 2011 Kansas City Boat & Sportshow offers visitors a way to shake the winter blues and invest in happiness with a rare opportunity to view, board and buy the largest selection of boats, RVs, personal watercraft, ATVs, hunting and fishing accessories, and vacation getaways. Making a comeback to H. Roe Bartle Hall January 13 – 16, 2011, the Kansas City Boat & Sportshow will be the ONLY boat show at the popular H. Roe Bartle Hall this year. As a result, show goers will find more boats than ever before, featuring some of the best brands at the best prices of the year.
If you're interested in the outdoors, the Kansas City Boat & Sportshow is an ideal place to find everything you need – the best part is you can compare products and prices from all the top dealers throughout the region – all under one roof," said Mark Adams, the show's producer. "The show is a unique opportunity to escape the dreary winter and step inside to discover everything the outdoors has to offer and get ready for summer fun.
Hundreds of boats, RV's and a wide selection of the latest outdoors accessories will be showcased at the 2011 event, totaling millions in merchandise. In addition to the latest boats and accessories, visitors to the 2011 Kansas City Boat & Sportshow will find special features, including:
Wing-A-Thon Wing Eating Contest – A Kansas City classic, this wing-a-thon is sure to be one of the year's best. Hosts WHB (810AM) and Hooter's will give away exciting prizes to winners. The wing-a-thon takes flight Friday, January 14 at 5:30pm during Kevin Kietzman's live broadcast.
Texas Bass Tank – Don't miss this 40-ft. aquarium filled with 5,000 gallons of water and stocked with a variety of native fish, sponsored by Berkeley. Daily fishing demonstrations by professional fishermen provide a rare underwater view of how fish react to and strike at various types of bait and fishing techniques.
Willow Creek Kids Trout Pond – Free fishing for kids 12 and under at this year's Willow Creek Kids Trout Pond. Stocked with fresh frisky fighting trout, kids can let loose at the Trout Pond while experts help them make their next big catch. Be sure to bring the camera to catch the moment when your little one reels in a big one!
Boating and Outdoor Classroom – Led by professional boating and outdoor instructors, the seminars offer expert insight on topics ranging from women in boating, basic boating maintenance, how to properly use the latest marine electronics, insider fishing tips for catching bass, catfish, walleye and crappie and much more! Seminars are held daily throughout the run of the show and are held at the Seminar Stage in the South end of the hall in space #M1. Check www.kansascitysportshow.com for a complete schedule.
Adopt-a-Pet – An outdoors person and their trusty dog companion, what's better than that? How about a family and their newly adopted pet! Visit the Adopt-a Dog Center and go home with a furry new friend. Sponsored by Half Way Home Pet Adoptions (PetsHalfWayHome.com), staff will be onsite on Saturday, January 15 and Sunday, January 15.
SpongeBob SquarePants – Making a special appearance Saturday and Sunday, January 15 and 16 from 11am to 3pm, SpongeBob will create an adventure of his own at the show and mingle with show-goers.
In addition to a variety of entertainment and the chance to view, board and buy hundreds of boats, RVs, ATVs, and personal watercraft, show goers can enter to win prizes and can take advantage of special show giveaways. Visit the show website to check for the latest deals.
Ready to start shopping now? Visit KansasCitySportshow.com to search the dealers attending this year's show and find out what boats and RVs they'll be bringing. You can plan ahead to figure out what dealers are a must-see, who's offering the best deals and even schedule dealer appointments.
When: Thursday through Sunday, January 13 - 16, 2011
Thursday: 2:00 p.m. – 9:00 p.m.
Friday: 12:00 p.m. – 9:00 p.m.
Saturday: 10:00 a.m. – 9:00 p.m.
Sunday: 10:00 a.m. – 5:00 p.m.
Where: H. Roe Bartle Hall
301 W. 13th St.
Kansas City, MO 64105
Admission: $9.00 for adults
FREE for Children 15 years and under
E-ticket Family Promotion: Buy 3 tickets online and receive the 4th ticket FREE
Price Chopper" Promotion: Get $1 off adult admission with proof of coupon
Tickets can be purchased online at KansasCitySportshow.com
Visit KansasCitySportshow.com for complete details.
PRESS NOTE: For press access please visit CansasCitySportshow.com to sign-up for a press badge. Preview photos and b-roll available upon request to ehopkins@nmma.org or 312-946-6249.
About the Kansas City Boat & Show
The Kansas City Boat & Sportshow is produced by the National Marine Manufacturers Association (NMMA), the world's largest producer of boat shows. NMMA is the leading association representing the recreational boating industry in North America. NMMA member companies produce more than 80 percent of the boats, engines, trailers, accessories and gear used by boaters and anglers throughout the U.S. and Canada. For more information visit www.nmma.org.
---

Whale Intelligent Control™
Receives DAME Special Mention at METS 2010
2nd award in 2 months for unique system that monitors performance,
controls operation of grey waste, fresh & bilge water pumps
Watch the video: www.youtube.com/whalepumps

MANCHESTER CENTER, VERMONT (USA) – For the second time in as many months, Whale Water Systems has been recognized for its new Intelligent Control™ (IC), innovative electronic control circuitry that continuously monitors the performance of the Whale range of grey waste, fresh and bilge water pumps – and intuitively switches the pumps on and off when required.
At METS (Marine Equipment Trade Show) 2010 in Amsterdam last week, Whale IC received a Special Mention from the DAME Award Jury in the Machinery, Propulsion, Mechanical and Electrical Systems category. In September, the compact, clog-free Gulley IC received a NMMA Product Innovation Award in the Mechanical Systems category at IBEX (International Boatbuilders' Exhibition & Conference) 2010 in Louisville, Kentucky.
Whale IC pumps have built-in sensors that monitor relevant aspects of the system:
• Grey IC senses water levels with its Single outlet Gulley IC and dual Inlet Manifold IC, making a fully automatic waste system when connected to the Gulper IC.
• The new Fresh IC freshwater pump prevents rapid cycling without sacrificing flow and performance. The pump monitors back pressure, energy consumption and flow and turns off only when no flow is required. It can run dry without damage and eliminates the need for an accumulator tank.
• With Bilge IC, the Strainer IC senses water in the bilge and communicates with the remote mounting Gulper IC, which switches on and off automatically. The small footprint strainer fits into tight bilge spaces.
All easy-to-install, low maintenance, trouble-free Whale IC pumps and accessories feature: pre-wired, linked components, integrated sensors and marine grade waterproof electric connections; and soft start/stop, digital switching, less on/off cycling and no moving parts for longer system life.
For more information about Whale Intelligent Control™ and other Whale Water Systems products, visit www.whalepumps.com or call 1+802.367.1091.