Season On!
It's Sunday. Wind predicted. Lake might even be frozen. Up early, light the fire. Cross the meadow and fire up the stove in the shop. Begin gathering up the scattered pieces that turn the little Fed landsailer into an iceboat. Remember how to fit it all together. Sharpen and align the blades. Strap her onto the trailer, and head west.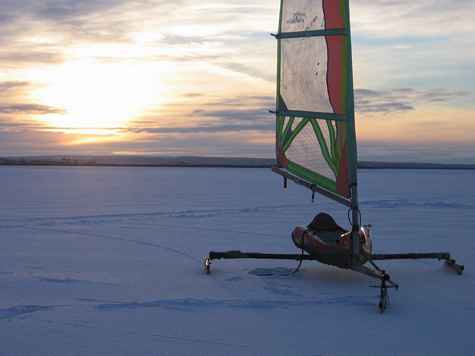 It's an hour and a quarter drive across the sensuous rolling hills of the Palouse, to Sprague Lake. The farmland is blanketed in white, with occasional bursts of brilliant sunshine bringing out the diamonds.
I roll in at 2 pm, there's an inch and a half of cold, dry powder atop 4 inches of smooth, hard ice. Wind out of the NE, 8 mph, running straight down the lake. Rig the boat, suit up, and I'm soon cruising around at 35 mph, carving great arcs on the pristine surface. Not a soul around, the last of the ice fishermen pulling off as I arrived.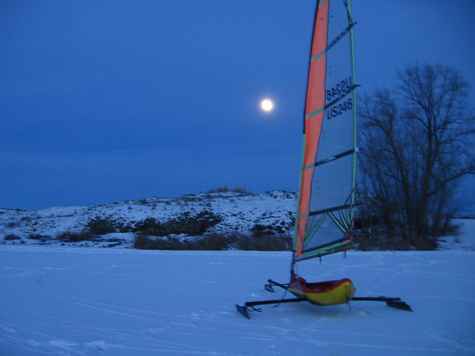 An occasional break to make an adjustment to the machine, or add a layer. Both of us finally get fully tuned, and I zip around til I run out of daylight. 42 mph max for the afternoon. De rig under a full moon and headlamp, and motor home contentedly, with that smile I'm so fond of. Season on!

Dave
---
Restoration Project
These pictures show what a long sleek hull my Helen Marie has. 26 feet long and 6-1/2 feet wide. And here she is with my Christmas present, a motor. This is a 20 hp Nissan long shaft, power tilt, electric start, remote control four stroke. The price of all this was $3200. This same motor without all the fancy stuff is only about $2400 but I need all the fancy stuff.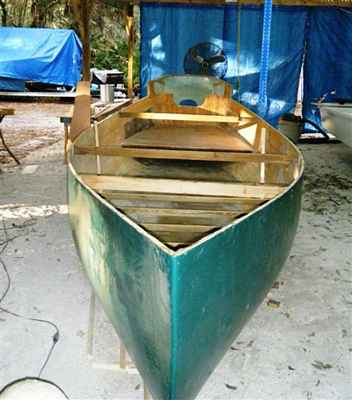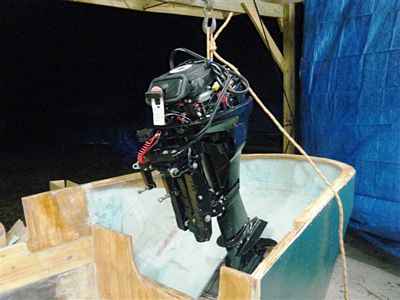 ***
He did it again. Remember a couple months ago when I told you about Steve finding two really nice Wee Lassies at a garage sale for about nothing. He's going to make a schooner from one of them. Here it is with the centerboard trunk installed. He's showing the paddling and sailing positions. I know, he's nuts. A 20 pound schooner but he's a semi pro kayaker and canoer so maybe he can do it.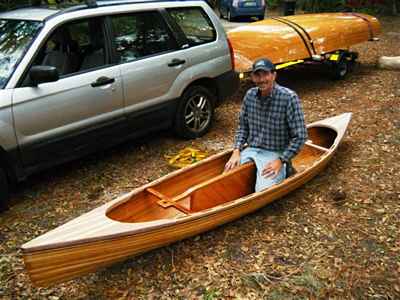 David Lucas
Lucas Boatworks and Happy Hour Club
(941) 704-6736
---
Gannet
We were sitting around in the tiki hut reviewing the day with a few cool ones when who should show up pulling the most beautiful stripper I ever saw. This is an Iain Oughtred "Gannet" that a fanatically precise architect built. Steve got the unfinished hull, spars, c/b and rudder for, are you ready for this, $600 from Crags list. The workmanship on this hull is about the best I've seen, 3/8 cedar strips, even Barry Long would be impressed and I know he's another fanatic. Yes, Steve does have a wife. She must be a lot like Peter's wife. Both of these guys believe that every old boat deserves a good home and the boats seem to follow them home.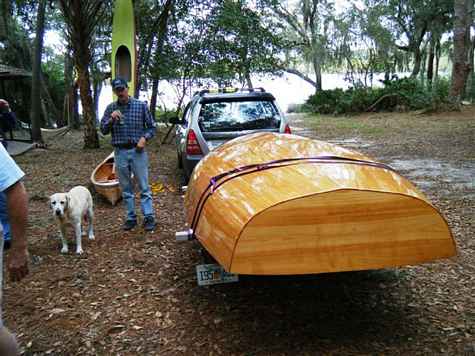 David Lucas
---
New Fuel Primer Bulb From Larand Products Beats
Tighter EPA/CARB Emission Standard, Offers Superior Performance
POMPANO BEACH, FLORIDA (USA) – As of January 1, 2011, fuel primer bulbs for outboards must comply with US Environmental Protection Agency (EPA) and California Air Resources Board (CARB) regulations limiting carbon emissions to 15 grams per square meter, per day. A new primer bulb from Larand Products exceeds the EPA/CARB standard and also offers performance and reliability superior to other OEM and aftermarket bulbs.
The new primer bulb allows emissions of less than 6 grams per square meter, per day, beating the standard by almost 70 percent. Made from a durable compound that stands up to harsh weather conditions and maintains excellent flexibility in low temperatures (in lab tests, the new bulb pumped 20 percent more fuel than the leading OEM bulb). Unlike products that rely on mechanical pumps, this primer bulb has no seals that can leak fuel.
• Familiar look and feel
• 70% less fuel permeation than new standard allows
• Durable and weather resistant
• Leak-proof design
• Excellent low-temperature flexibility
• Superior pumping efficiency
For more information about the new EPA/CARB compliant marine primer bulb and other Larand products, visit www.larandproducts.comor call 1+877.786.0606 (toll free in the US) or 1+954.977.6333.
---
Michalak Index
Being the Jim Michalak fan that I am and enjoying his news letters, I've compile to the best of my ability an index to all of Jim's newsletters. They are on at least three different service providers and still some gaps, I may email Jim as well he may have them hidden away somewhere.
https://www.buildboats. com/bbmichalakindex.html
The index is listed by date, includes the article name, the featured design, and the name of the boat photo that is included at the top or each newsletter. I'm thinking of additional lists just ordered by Boat Design, Article etc. when I get to those I'll add links to the page I have provided above.
Thanks
Tom Raidna
---
Lightening Strikes
I saw this article about lightening strikes and was wondering what you guys do to prevent getting hit, My boat has a metal top and glass bottom, it could be a problem as I want to stay out in storms and wet weather as this is the quietest time and the water is the calmest after a storm. With the above set up I could be fried in cross flowing electrical currents.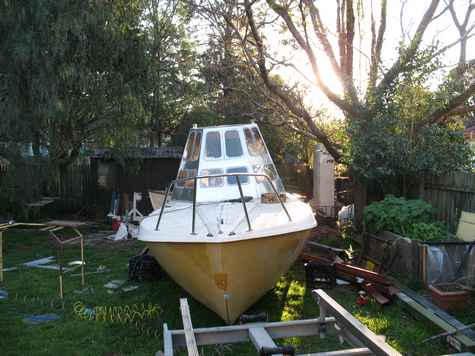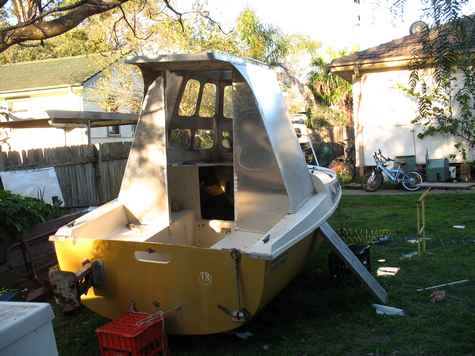 Cheers Stewart
---
New Long-Life LED Spreader Light From Scandvik Marine
Low draw, daylight-bright up to 50,000 hours
VERO BEACH, FLORIDA (USA) - The new long-life LED Spreader Light from Scandvik Marine draws less than 1 amp, but will provide daylight-bright lighting for up to 50,000 hours.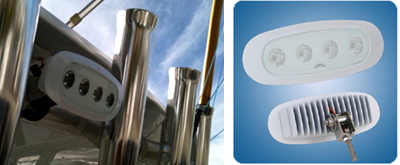 Four 3-watt LED bulbs provide light equivalent to 40, 50-watt halogen bulbs. Shown with standard mounting hardware. Flush-mounted version is available.
- Aluminum Alloy Housing
- Daylight White LED color
- Color Temperature: 5500K - 6300K
- Lumen: 130-147*4
- Temperature of LED:
- Four 3-Watt LED bulbs
- Equivalent to 40, 50-Watt Halogen bulbs
- LED lifetime: 50000 Hours
- LED Beam Angle: 110 Degrees
- Working Voltage: 8-30V DC
- .8 Amp Draw
- Dimensions 60mm" W x 150mm" L x 36mm" D (without mounting bracket)
For more information about the new Scandvik LED Spreader Light, other Scandvik products and to request a copy of the Scandvik Marine catalog, visit www.scandvik.com or call 1+800.535.6009 (in the US) or 1+772.567.2877.
---
Less Than Three Weeks Left Until Sea Tow $10K Sweepstakes Deadline
With less than three weeks until the deadline, Sea Tow Services International reminds boat owners nationwide to enter its "Rig Your Boat With $10,000" Sweepstakes before the event ends Jan. 31. Enter at seatow.com/10000bucks. The winning boat owner, who will receive $10,000 to offset his or her boating costs, will be announced at the 2011 Miami International Boat Show. Please see the attached release for more details or the text version below.
A media advisory, including details regarding the announcement of the winner, will be sent at a later date.
Gary Beckett
---
Three Sheets Northwest

The recreational maritime site Three Sheets Northwest https://threesheetsnw.com/, which launched in January 2009, may be of interest to Duckworks readers. It's a great site, filled with a variety of interesting and useful content. From their "about us":
"Three Sheets is the brainchild of two former longtime journalists, Marty McOmber and Deborah Bach, who each spent more than a decade toiling at and writing for publications including The New York Times, The Seattle Times, the Los Angeles Times and the Seattle Post-Intelligencer.
Our site provides news, community and resources for boaters in the Northwest. Drawing on our combined 30-plus years of journalism experience, we provide high-quality coverage and stories you won't find in other boating publications, as well as links to other boating blogs from around the region. In an effort to create an online hub for Northwest boaters, we also offer a full suite of social networking features that allow readers to connect with others who enjoy their passion for boating.
We sometimes miss the insanity and chaos of a newsroom. This site is sort of like running our own newspaper, except the deadlines are self-imposed. We strive to bring a high level of professionalism to our reporting while not taking ourselves too seriously. Boating is about having fun, and we like to eat, drink and swear, well, like sailors."
I think Three Sheets Northwest would be a great site to highlight on Duckworks magazine.
Sincerely,
Pete Leenhouts
Olympic Peninsula
---
Kannad Marine launches lifesaving SafeLink SOLO Personal Locator Beacon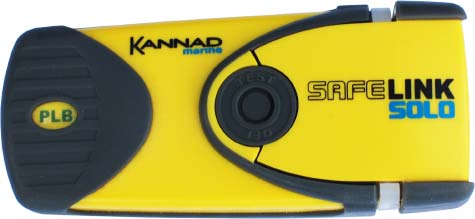 Kannad Marine is pleased to introduce the SafeLink SOLO Personal Locator Beacon (PLB) at the Tullett Prebon London International Boat Show, which will be available through Ocean Safety the Kannad Marine UK distributor and a number of retailers exhibiting at the show.
The SafeLink SOLO PLB takes personal safety to a new level, giving individuals direct contact with search and rescue services when a life-threatening incident occurs, no matter where the user is in the world. This compact and lightweight beacon can be carried by boaters, skiers, divers, and other outdoor enthusiasts, whether tucked into a pocket or personal kit bag, or attached to a belt. The SafeLink SOLO PLB is waterproof to 10 metres, and its rugged design and durable construction means users can confidently carry it into any environment.
With ergonomic grip and intuitive activation, this lifesaving piece of equipment is reliable and simple to use. The integral 406 MHz beacon operates on the global COSPAS SARSAT satellite communication system, which is supported by international government search and rescue authorities around the world. 50 GPS channels ensure the beacon's position can be pinpointed accurately and speedily identified by search and rescue teams, even in the most remote of locations. Subscription free, the SafeLink SOLO PLB does not rely on commercial call centres.
Supplied with lanyard, buoyancy pouch and universal carry pouch, the SafeLink SOLO PLB can always be close to hand. At RRP (excluding tax) of just £245 (UK), €295 (Europe), $390 (USA) the SafeLink SOLO PLB represents excellent value for money. For any intrepid individual who has safety at the forefront of their mind, this should be a standard item of kit. www.kannadmarine.com www.mcmurdo.co.uk
---
Patent-Pending UWaterG2 Features Waterproof Audio Technologies (WAT) Highest Rated IPX8-Certified 100% Waterproof up to 10 Feet
December 29, 2010, Bogota, NJ -- Fitness Technologies Inc. www.FitnessTechUSA.com, a leading provider of waterproof audio products, announced today the world's smallest waterproof MP3 player, the UWaterG2, to be introduced at the Consumer Electronics Show (CES), Booth #3130, held in Las Vegas, January 6-9, 2011. The micro-sized UWaterG2 MP3 player (0.4"x1.25"x 1.75") comes with 2GB, 4GB, or 8GB of memory, and is certified at 10 feet (3 Meters) underwater. Available in 5 fashionable colors: Black/Yellow, Black/Red, Black/Blue, Black or Ice White, the UWaterG2 is affordably priced starting at $59.
8GB of Memory Fits up to 2,400 Songs (20 Audio Books)
With 8GB of memory, users can easily create a 2,400 song (20 audio book) personal playlist with up to 8 hours of playtime. The patent-pending UWaterG2 waterproof MP3 player easily clips onto an armband (included), goggles, headband, or belt for swim-anywhere/go-anywhere listening pleasure. "The UWaterG2 ends the boredom of swimming laps, letting you enjoy music and audio books while boating, surfing, scuba diving, snorkeling, skiing, walking in the rain, or running -- this is the ultimate outdoor companion!" said Opher Pail, President, Fitness Technologies Inc.
"Twist & Lock" Earphones Provide Double Protection to Completely Seal Out Water --
The UWaterG2 features Waterproof Audio Technologies (WAT) and "Twist & Lock" technology that not only completely seals water out of the earphone jacks, but also provides crucial long term protection against corrosion -- a problem that often damages devices with regular jacks. Since the UWaterG2 is rated at the highest level IPX water submersion standard -- IPX8-certified 100% waterproof up to 10 Feet/3 Meters underwater, you never have to worry about accidentally damaging your MP3 player.
UWaterG2 Product Features:
- 2GB, 4GB, or 8GB of memory.
- Up to 8 hours of continuous play time.
- Built-in high performance Li-Ion Rechargeable Battery (1000+ cycles).
- IPX8 Waterproof Certification - underwater up to 10 feet/3 Meters.
- Weight: under 1 Ounce.
- Windows/Mac Compatible – includes USB cable.
- Mini-Size: 0.4"x1.25"x1.75" (0.9x3x4.5cm).
- Sequential/Shuffle Play Modes.
- Highly Visible Multi-Color LED Mode Control makes it easy to use.
- Available in multiple colors: Black/Yellow, Black/Red, Black/Blue, Black and Ice White.
- "Twist & Lock" jack technology completely seals out water.

Designed in the U.S.A. with Patent Pending, the UWaterG2 world's smallest waterproof MP3 Player is available immediately, priced starting at $59.95 from www.FitnessTechUSA.com and select retail outlets. The UWaterG2 includes the MP3 player, extendable stereo waterproof earphones (12"-40"), silicon ear-tips (4 sets, XL,L,M,S), armband, detachable flex clip, USB cable, owner's manual, and international extended warranty. An optional universal adapter provides connectivity to other headphones/earphones. For more information, visit: www.FitnessTechUSA.com, email: info@FitnessTechUSA.com phone: (201) 457-0030.
---